The countdown to summer is officially on. In the craft beer world, this means it's time to make a summer beer bucket list. Ours is Buffalo-themed, of course. 
Whether you're drinking on your porch, stocking up for a cookout, or spending the weekend on a boat, you need drinkable Buffalo beer. Here's our top picks: 
FLO-Mingo 
ABV: 5% 
This light fruited kettle sour ale features cherry, strawberry, raspberry, and pomegranate. Think very berry and not too tart. 
Craftsman Lager
ABV: 4.8% 
The latest edition to 42 North's lineup is a pale German-style Helles Bock. This traditional lager is brewed to be an everyday beer. 
Berry Vision 
ABV: 5.4%
This sour fruit beer is a beautiful blend of blueberries and raspberries. If you're all about fruity flavor in the summertime, add this to your list. 
Gose With 
ABV: 6.5%
This traditional German-style sour ale is brewed with raspberry, blackberry, sweet cherry, and lactose. Think juicy, tart and refreshing! 
Chilanga
5.5% ABV
EBC teamed up with Falling Piano Brewing to create this fruity and floral Mexican-inspired ale. It's brewed with hibiscus flowers, blue agave nectar, and EBC's iconic Blueberry Wheat. 
Liquid Lollipop 
ABV: 6.5%
Froth's Liquid Lollipop series is bursting with fruity flavor. If you love fruited sour ales, look for the latest release from them. 
Buffaloha
ABV: 5.5%
This wheat summer ale is brewed with passion fruit and made for easy drinking in the summertime. 
Patio Pack (Sweet Tang, Small Town, Lake View Lager, Two Two Mango)
ABV: 5.0%, 5.2% 5.2%, 4.8%
This variety pack comes with four summertime styles, including a grapefruit lager, a belgian saison ale, an American lager, and a mangolicious ale.
Strummer
ABV: 6.0%
This traditional Belgian Blonde Ale is light, smooth, and crisp aka everything a summertime beer should be.
Blood Orange Saison 
ABV: 5.5%
This fruit-forward saison is full of citrus flavor. Think zesty meets slightly spicy. You'll taste blood orange plus tangerine and mango. 
Ruby Red 8 Days a Week
ABV: 4.8%
This grapefruit blonde ale is dangerously drinkable. It's light, fruity, and bursting with citrus flavor which can be really refreshing on a hot day. 
Lakeside Loganberry 
ABV: 6.6%
This medium dry cider is a summertime favorite because Buffaloanians love anything and everything Loganberry flavored.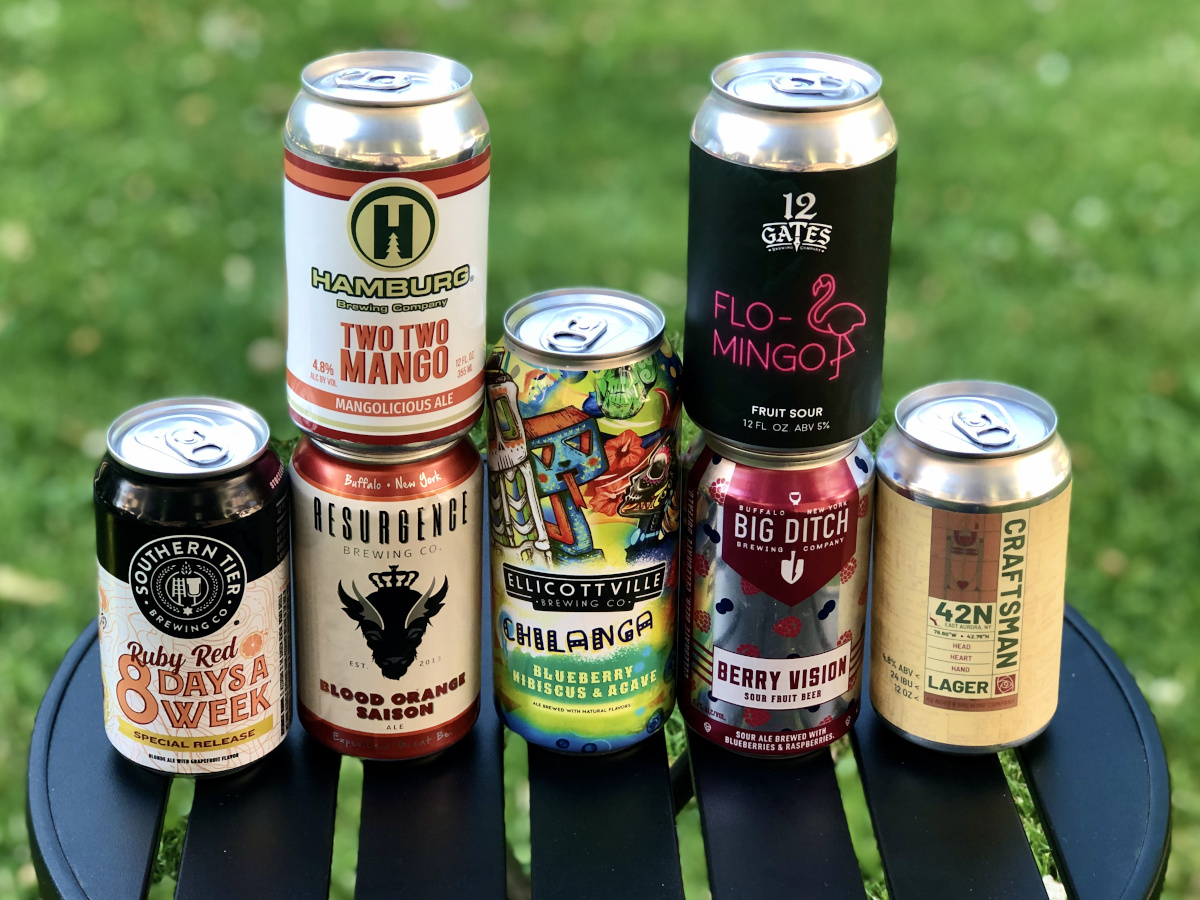 Look for Local
When you shop for beer in Buffalo, look for our logo. Bottle shops like Consumer's and grocery stores like Tops or Wegmans are always stocked with Buffalocal brands.
P.S. If you're looking to drink local while you're at a craft beer bar in Buffalo this summer, you're in luck. Craft beer in Buffalo is always on draft at our certified accounts.