It's time to celebrate the red, white, and brews! 
This Fourth of July, we have an American-themed list of craft beers to pack into your cooler or drink at a craft beer bar in Buffalo.
Our Picks
'Murica Emoji
Brewed by 12 Gates Brewing
ABV: 7.4% 
If you could flavor "Stars and Stripes" into an IPA, this would be it! A New England style with citrus flavor and notes of pineapple.
Illumination Pilsner
Brewed by 42 North Brewing
ABV: 5.9% 
This beer lights up our list just like Lady Liberty lights up the New York Harbor. This pilsner is slightly sweet with a spicy, floral hoppiness.  
FC (For Our City) 
Brewed by Big Ditch Brewing
ABV: 4.1%
This "fantastically crushable" summer beer has pineapple and orange flavors and a crisp finish and it  reminds us of our great, American city.   
Interrobang
Brewed by Community Beer Works
ABV: 7.2%
Nothing says independence like an American IPA. This award-winning beer has a well-rounded malt profile and bright citrus, dank pine, juicy peach flavors with a mild bitterness.
Blueberry Wheat
Brewed by Ellicottville Brewing 
4.8% ABV
Cheers to the red, white, and blueberry. This wheat beer has a golden color and a crisp finish.
Loyal to the Grain
Brewed by Froth Brewing 
ABV: 5%
This  clean and crisp pilsner is Loyal to the Grain, just like we're loyal to the U.S.A.
All America City
Brewed by Flying Bison Brewing 
ABV: 6.5%
Crack open a cold can of American spirit. This IPA is well balanced and made with all American grown ingredients.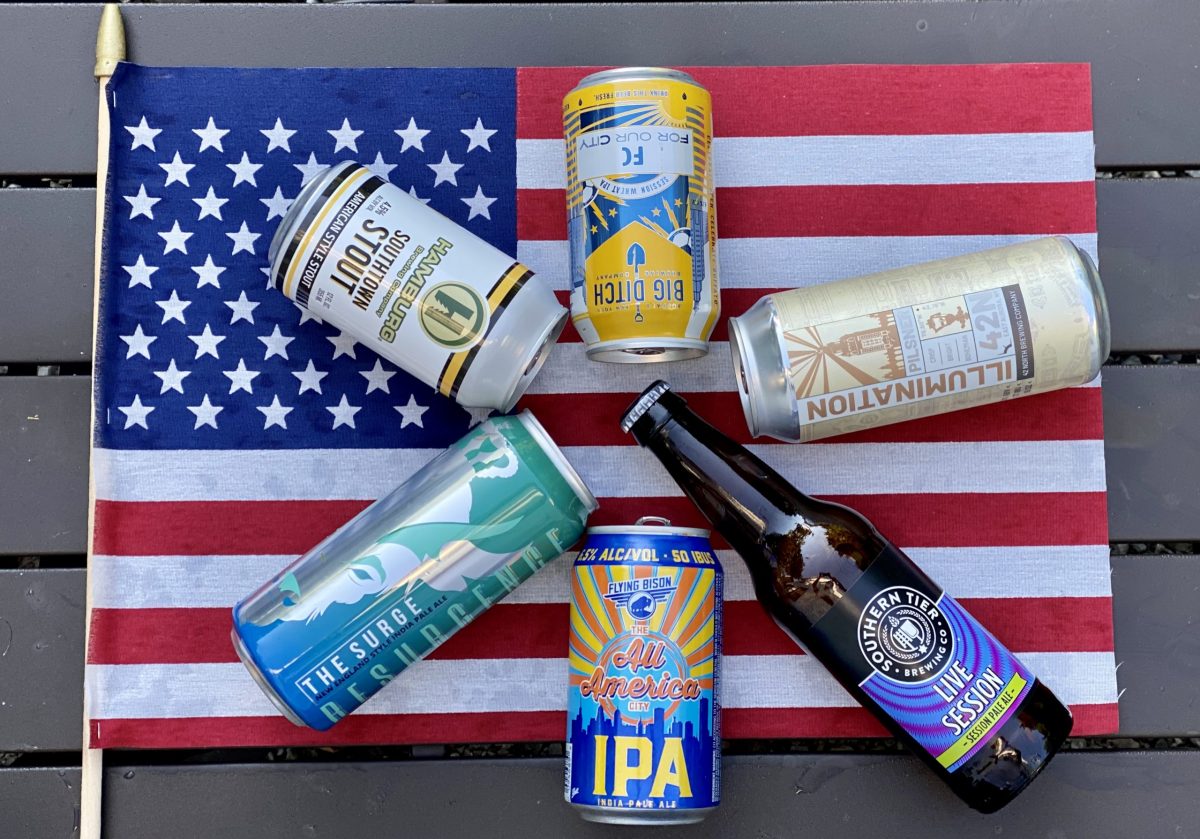 Southtown Stout
Brewed by Hamburg Brewing 
ABV: 4.5% 
Our country is made up of small towns that stand together. Just like the Southtowns Toast to them with one of Hamburg Brewing's newest beers.
Citra Screamer 
Brewed by Pressure Drop Brewing
ABV: 4.9%
Represent the West Coast with a California Golden Cream Ale. This light bodied brew has plenty of citrus, a mild hop presence and a clean finish.  
The Surge
Brewed by Resurgence Brewing
ABV: 6.5%
We gotta rep the East Coast too. This hazy New England IPA has a tropical fruit aroma and delicate citrus flavor.
Live Session 
Brewed by Southern Tier Brewing
ABV: 5.5%
America is famous for its entertainment industry, so we're celebrating it with this session pale ale. It has fruity notes and a sweet malt backbone. 
New England Style 
Brewed by Blackbird Cider Works
ABV: 9.9%
We live on the East Coast, so we're going to rep New England twice. This cider is double fermented with a full body and fermented honey notes. 
Look for Buffalo Beer
You can pick up local beer in Buffalo. Just look for our logo in bottle shops like Consumer's. Grocery stores like Tops and Wegmans are also stocked with Buffalocal brands.
If you visit a craft beer bar in Buffalo to celebrate Independence Day you'll be able to find brews from this list too! That's because craft beer in Buffalo is always on draft at our certified accounts.