Fall is officially here. That means football games, backyard bonfires, and our favorite seasonal Buffalo beers. 
This fall, we're creating a bucket list of Buffalo craft beers that are great for anything from a cool-weather cookout to fall foliage filled hikes. 
Our Picks
Table Smasher
Brewed by 12 Gates Brewing
ABV: 4.5% 
If you're looking for a crisp, smooth beer to drink during a football game, this is it. Table Smasher is a Honey Kölsch brewed with local honey from Bee Country in Darien, NY.
Oatmeal Cookie
Brewed by 42 North Brewing
ABV: 5.8% 
This Brown Ale tastes like a liquid oatmeal cookie. When you take a sip, you'll pick up flavors like vanilla, molasses, and raisin. 
Cinnamon Apple
Brewed by Big Ditch Brewing
ABV: 6.5%
One smell of this Amber Ale and the aroma will immediately make you think of fall. This beer has a rich, malty base with a tangy apple finish, making it a solid seasonal brew.
The Whale
Brewed by Community Beer Works
ABV: 5.9%
The Whale might be a year-round beer, but it's coffee roast and chocolate flavors make it taste like a seasonal fall favorite.
Pumpkinville Latte 
Brewed by Ellicottville Brewing 
6.5% ABV
PSL lovers, this beer is for you. This complex ale could be described as pumpkin pie in a beer. It's brewed using locally-roasted coffee and an autumn spice blend.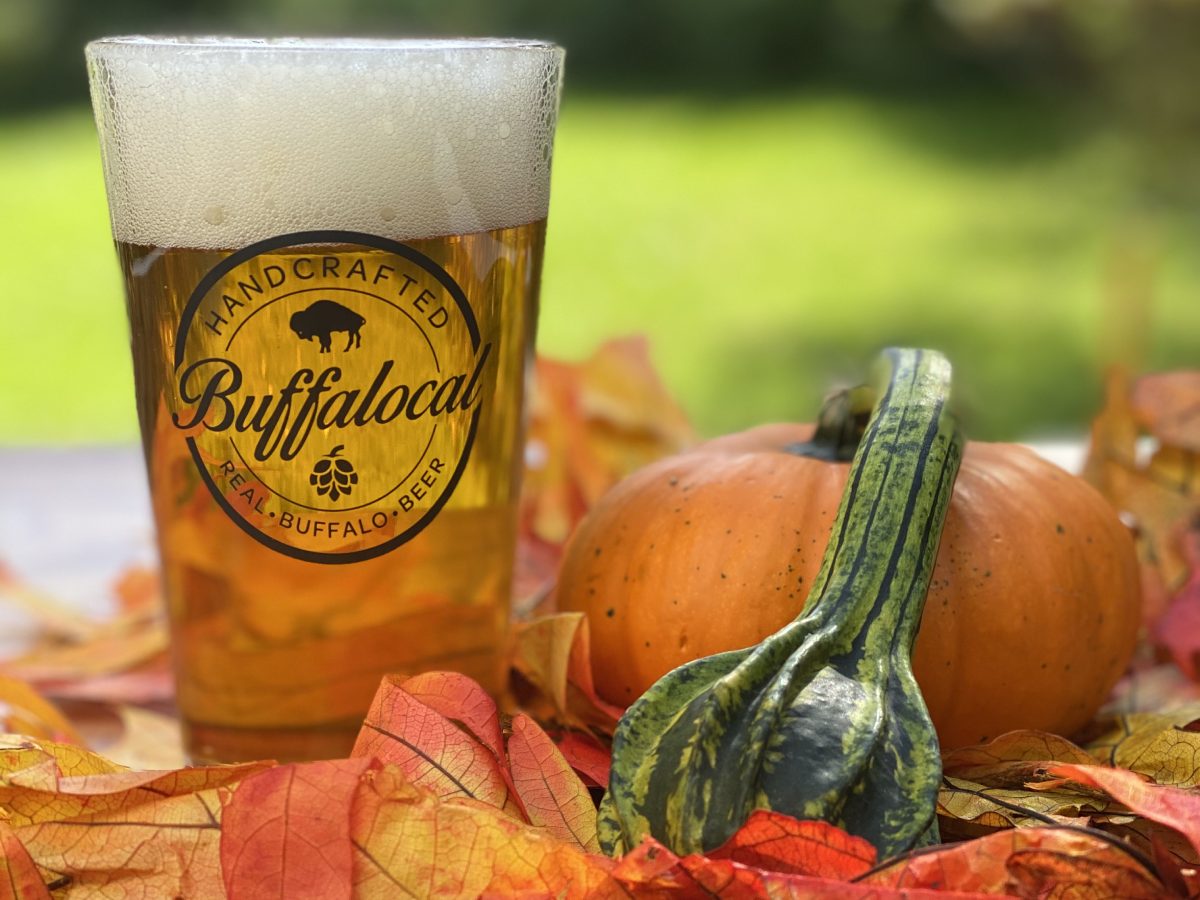 Bisonfest
Brewed by Flying Bison Brewing 
ABV: 6.3%
A traditional German beer, this Oktoberfest lager has a rich, malty flavor that is balanced perfectly by hops. Its orange-amber color is especially visible during a traditional stein hoist competition. 
Oktoberfest
Brewed by Hamburg Brewing 
ABV: 5.7%
A Märzen Lager with a big, malty flavor. Hamburg Brewing loads their Oktoberfest with tons of Vienna-style malts, and fades away to a clean hop bitterness.
Sticky Icky 
Brewed by Pressure Drop Brewing
ABV: 6.0%
Even a list of Fall beers needs to include some hops. Our pick is the Sticky Icky from Pressure Drop, which is skunky and dank and perfect for a crisp Autumn day. 
Vanilla Cappuccino 
Brewed by Resurgence Brewing
ABV: 7.0%
Resurgence Brewing enhances their Pumpkin Ale with vanilla and coffee beans. These additions give the beer a strong French Vanilla coffee flavor, perfect for chilly fall days. 
PUMKING
Brewed by Southern Tier Brewing
ABV: 8.6%
Rule your domain this fall with a Pumking Imperial Pumpkin Ale. This beer has an intense pumpkin pie aroma and a malty sweetness complete with vanilla, clove, allspice, cinnamon, nutmeg, and pie crust.
Dry Oak Aged
Brewed by Blackbird Cider Works
ABV: 6.7%
As any New Yorker knows, fall is apple picking season. So we couldn't end this list without including a cider. This cider has a bold flavor and a perfect acidity to sweetness balance that makes it a tasty choice.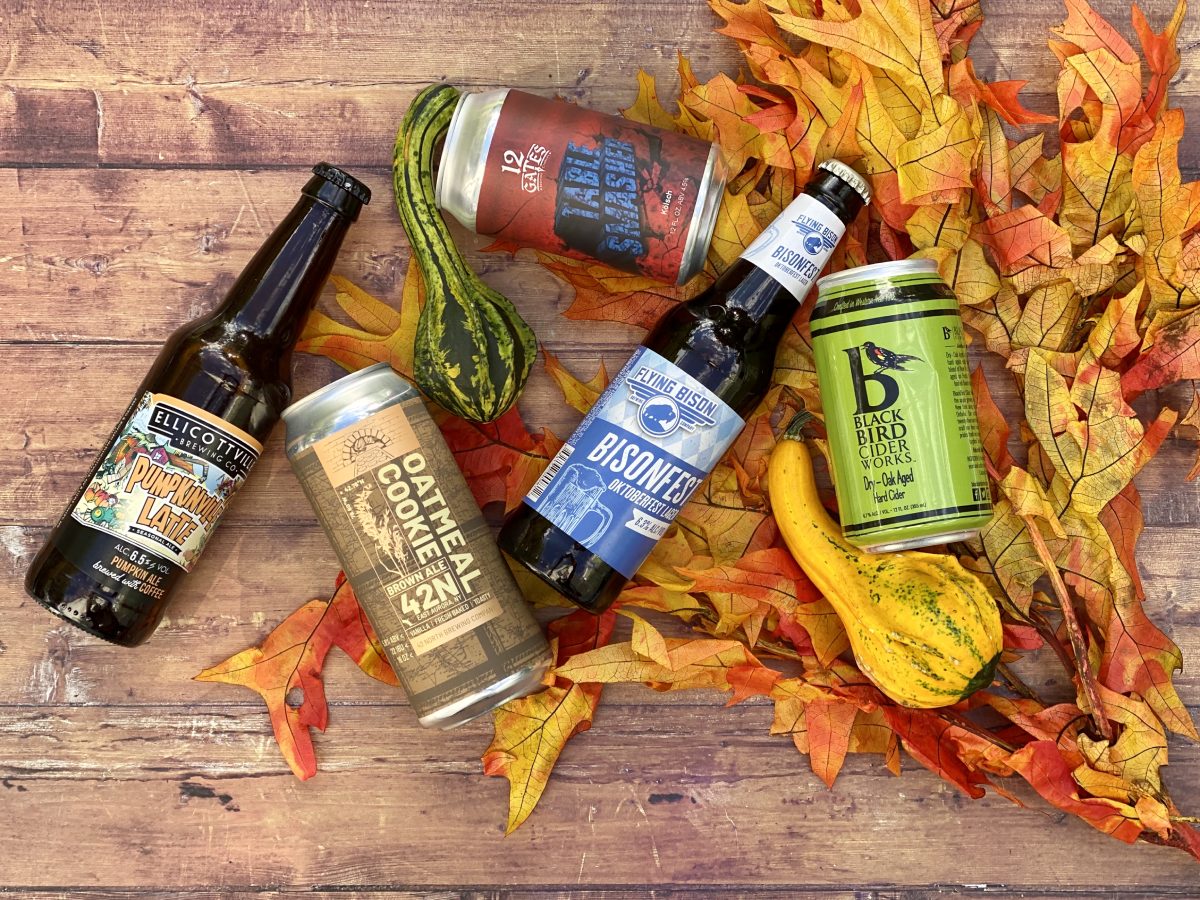 Look for Local
Make sure you drink local while you're at a craft beer bar in Buffalo. Craft beer in Buffalo is always on draft at our certified accounts. 
You can also take Buffalocal beer home. When you shop for beer in Buffalo, look for our logo. Bottle shops like Consumer's and grocery stores like Tops or Wegmans are always stocked with Buffalocal brands.