It's the most wonderful time of year to drink craft beer in Buffalo. The month of December is all about seasonal releases, so we put together a list of Buffalo craft beer we recommend trying this winter. 
Our Buffalo Beer Picks:
Flo-Mingo
Brewed by 12 Gates Brewing
ABV: 5.0%
If you're daydreaming of tropical places far away, you'll love this kettle sour. Think of it as your flavorful escape from winter. 
Chenoo Brew 
Brewed by 42 North Brewing
ABV: 9.0%
This brew was inspired by the legend of the Chenoo, and it's an imperial stout with notes of blackberries, cherries, and vanilla. With the can art designed by local comic book legend, Graham Nolan, these limited edition cans will be coveted!
Mudlarked
Brewed by Big Ditch Brewing
ABV: 10.0%
Big Ditch's imperial pastry stout is thick and dark, and it's brewed with 9 different malts, milk sugar, cocoa nibs, and flavored with marshmallow or peanut butter. 
Spruce Hornsby
Brewed by Community Beer Works
ABV: 8.0%
We like our spruce trees covered in lights – and as flavoring in our beer. This Double IPA is bitter and conditioned on real black spruce tips.
Ellicottville Holiday Variety Pack
Brewed by Ellicottville Brewing 
Includes Lloyd's Christmas Ale, Raspberry Truffle, Salted Caramel Coldspresso, and Sugar Cookie
ABV: 8.0%, 7.0%, 6.3%, 5.6%
Ellicottville's holiday party pack is full of dessert ales, including a classic brown ale, an ale brewed with Platter's truffle chocolate and sweet raspberry, a salted, caramel blonde ale, and a vanilla pastry ale.
Liquid Christmas Card
Brewed by Flying Bison Brewing 
Includes Paula's Red Velvet, Spiced Christmas Ale, SPoT Coffee Stout, and Hazy Holiday 
ABV: 8.0%, 7.2%, 8.0%, 6.8%
Flying Bison's new canning line is in full effect, just in time for the holidays. This novel gift box comes with four seasonal beers in 16 oz. cans, including an imperial blonde ale, a winter warmer, an imperial coffee stout, and a juicy IPA.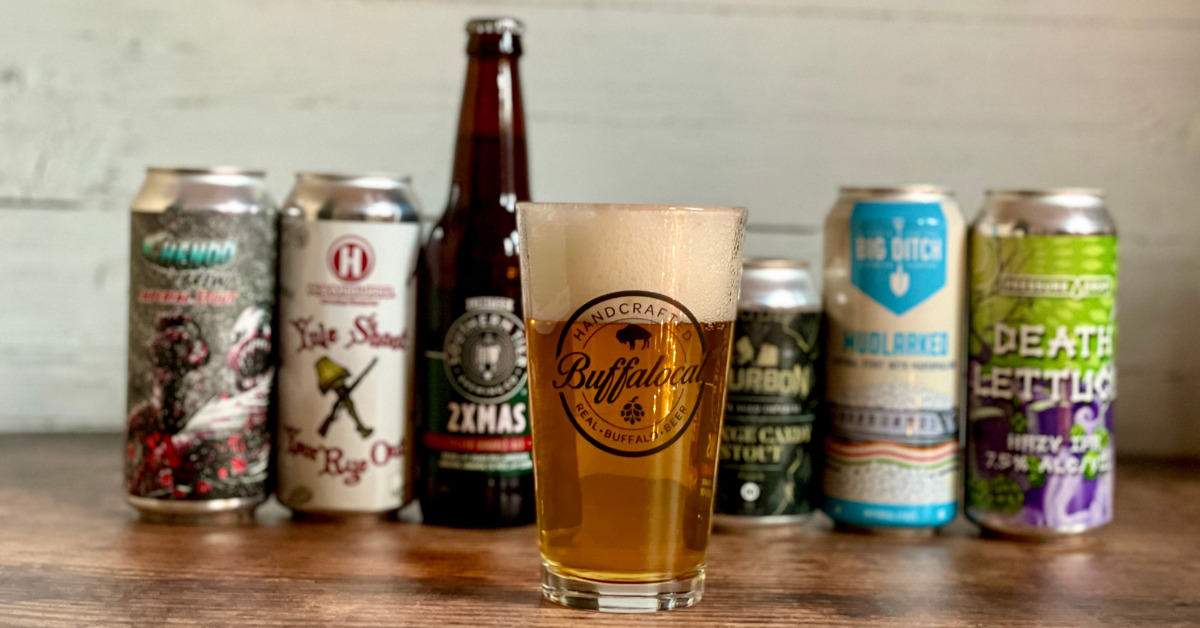 Yule Shoot Your Rye Out
Brewed by Hamburg Brewing 
ABV: 6.0% 
This bready rye ale is inspired by Raphie from A Christmas Story, and it's spiced with ginger for the holiday season. 
Death Lettuce
Brewed by Pressure Drop Brewing
ABV: 7.4%
Pressure Drop's hazy IPA is back! This popular brew has lots of tropical fruit notes and has a dank finish.
Bourbon Barrel Aged Sponge Candy Stout
Brewed by Resurgence Brewing
ABV: 10.0%
Resurgence aged their classic Sponge Candy Stout in bourbon barrels for a year. The result is a barrel-aged stout with an oaky vanilla and whiskey aroma that's balanced by big malty sweetness. 
2XMAS 
Brewed by Southern Tier Brewing
ABV: 8.0%
Winter warmers, like this one, are a must-have come Christmas. This spiced double winter ale was inspired by Sweden's Glögg, aka mulled wine, and it's brewed with figs, orange peels and spices.
Winter Doppelbock
Brewed by Steelbound Brewery
ABV: 8.5%
This Dopplebock style beer has rich malty flavors and hints of chocolate and plum making it a perfect pick for the coldest months of the year. 
Imperial Bavarian Cream Donut Stout
Brewed by West Shore Brewing 
ABV: 8.7%
This stout was inspired by one of the world's greatest donuts, Bavarian Cream. It has a rich full body, touches of lactose, and a creamy chocolate and vanilla flavor. 
Christmas Cider
Brewed by Blackbird Cider Works
ABV: 6.5% 
This semi-sweet cider comes once a year. It's spiced with hints of apple and ginger and has a cinnamon finish. You can enjoy this cider warmed or chilled throughout the Christmas season. 
Look for Local
Your favorite craft beer bar in Buffalo may be closed, but you can still drink Buffalo winter beer from the comfort of your home. 
When you shop for beer in Buffalo, look for our logo. Bottle shops like Consumer's and grocery stores like Tops or Wegmans are always stocked with Buffalocal brands.