Spring is officially here! This means sunnier days are ahead for the Buffalo craft beer scene, and we'll definitely drink to that. 
Warmer weather also means we are reaching for lighter beers. So if you're looking for springtime craft beers in Buffalo, we put together a list for you! 
Our Buffalo Beer Picks
716 Buffalo Kolsch
Brewed by Flying Bison Brewing 
ABV: 5.2%
Kolsch is one of the most drinkable styles on the planet. This one is made here in Buffalo, of course, and you expect a light body and clean finish much like what you'd find in Cologne, Germany. 
Blood Orange Saison 
Brewed by Resurgence Brewing
ABV: 5.5%
This fruit-forward saison is full of orange, tangerine, and mango flavor. It's tropical and lightly tart, making it perfect for sipping in the springtime.  
Cherry Vanilla Wheat
Brewed by 12 Gates Brewing
ABV: 4.8%
The first batch of this seasonal favorite came out just in time for spring. When you sip this highly drinkable wheat ale, you'll notice it has a pronounced cherry nose and a soft vanilla finish.
Clearly Confused
Brewed by Big Ditch Brewing
ABV: 6.3%
Stout season isn't over. This blonde stout is made for springtime drinking. Despite its light color, this beer is rich, roasty, and complex. It has a touch of lactose as well as coffee, hazelnut, and cocoa flavors. 
Dabinett Dry Heritage 
Brewed by Blackbird Cider Works
ABV: 8.2%
This English heritage style cider is made with traditional English and American cider apples at Blackbird's orchard in Barker. It's golden in color, dry, and has both bittersharp and bittersweet apple notes. 
Ginger Green Tea Gose
Brewed by West Shore Brewing 
ABV: 4.5%
West Shore Brewing welcomed spring with this traditional Gose. You can expect notes of coriander and salt, with ginger and green tea. 
Gose With Key Lime Pie
Brewed by Community Beer Works
ABV: 6.5%
This fruited Gose is brewed with key lime, vanilla, and lactose. It's citrusy, tart, and a lot like drinking a liquid key lime pie.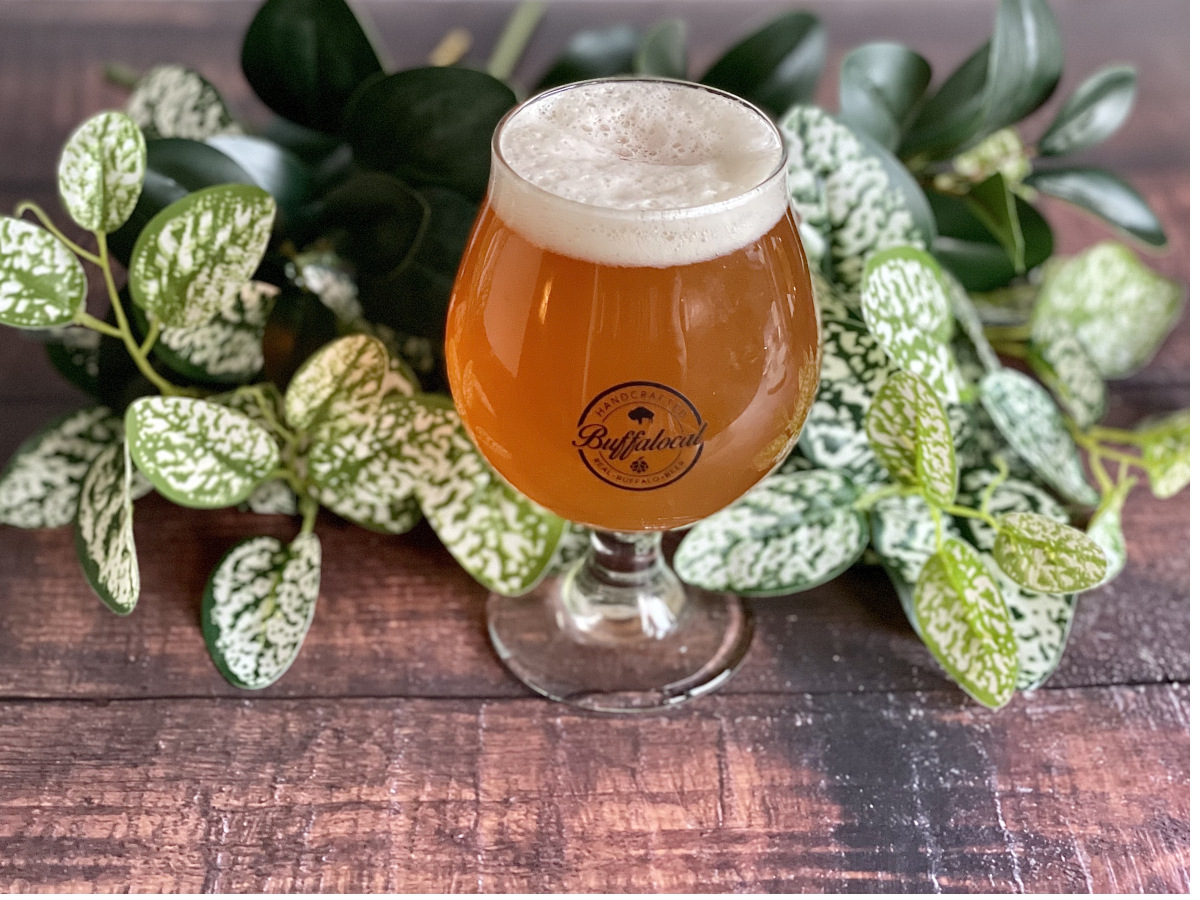 Happy Turtle 
Brewed by Pressure Drop Brewing
ABV: 7.0%
This hazy IPA is inspired by the West Coast complete with strong citrus, mango, papaya, and tangerine flavors. It has a balanced bitterness and a crisp, dry finish.
Irish Red 
Brewed by Hamburg Brewing 
ABV:4.8%
St. Patrick's Day may be over, but we'll be drinking Irish reds all season long. This Red Ale is inspired by Irish tradition complete with a malty sweet flavor and roasted coffee notes.
Kaisertown 
Brewed by Steelbound Brewery
ABV: 4.7%
This Pilsner is named after a neighborhood in Buffalo, and it's one of our springtime picks because it's light and crisp. 
Pineapple Wallonia Wit 
Brewed by 42 North Brewing
ABV: 5.4%
This seasonal spin-off of 42 North's popular Wallonia Wit is packed with pineapple making it a perfect pick for sunny day drinking!
Strawberry Dream 
Brewed by Southern Tier Brewing
ABV: 6.5%
This Milkshake IPA is creamy and dreamy! It's made with fruity, tropical hops and is full of strawberry and vanilla flavor, and it's officially the juiciest, smoothest IPA on Southern Tier's tap list.
There's Something About Cherry
Brewed by Ellicottville Brewing 
ABV: 6.2%
This Sour Ale is tart and tangy just like freshly picked cherries. It's refreshingly sour, and ideal for craft beer drinkers who are already daydreaming about summertime. 
Look for Buffalocal
Look for our springtime picks at your favorite craft beer bar in Buffalo and whenever you're shopping for beer in Buffalo. Bottle shops like Consumer's and grocery stores like Tops and Wegmans are always stocked with Buffalocal brands.