Summer officially starts on June 21, so naturally we created our own summer craft beer bucket list! 
Whether you're drinking on your favorite patio, at home on your porch, or in your backyard with family and friends, you need Buffalo craft beer in your life. So make sure you reach for Buffalocal brands all summer long. 
Our Buffalo Beer Picks:
Fairtastic Lemon Strawberry Ale 
Brewed by Flying Bison Brewing 
ABV: 5.5%
This brew was inspired by the Fair's freshly-squeezed lemonade. Last summer, Flying Bison teamed up with the Erie County Agricultural Society to create this Kettle Sour. You can expect to see this tart lemon and strawberry ale on shelves after Father's Day.
Green Heart IPA 
Brewed by Resurgence Brewing
ABV: 6.5%
Resurgence Brewing has a new flagship IPA just in time for summer. This hazy IPA has a smooth flavor that is crushable on the hottest days of the year! 
Juice Box Boy and Juice Box Girl 
Brewed by Hamburg Brewing 
ABV: 8.0% and 8.0%
This dynamic duo was brewed to have you kicking and screaming for more! The Juice Box Boy is a double dry hopped IPA and the Juice Box Girl is a Sour Ale. The IPA is made with vanilla, lactose, mango, tangerine, and passion fruit puree. The Sour Ale is full of fruity flavor with subtle tartness and notes of blackberry, pink guava, and papaya.
Nice Slice 
Brewed by Southern Tier Brewing
ABV: 5.0%
This Watermelon Session Ale was made for summer. When you crack one open, you'll notice the natural watermelon flavors balance perfectly with the wheat and subtle caramel malt. This summer session ale is subtly sweet and really refreshing which is ideal for day drinking. 
Photo Finish
Brewed by West Shore Brewing 
ABV: 4.5%
Come summertime, we really appreciate a crisp cream ale. This one is dry hopped with Motueka hops giving it lemon and lime citrusy flavor and it's blended with ruby red grapefruit and raspberry. When it comes to crushability, this beer is off the charts.
Pineapple Burner
Brewed by Big Ditch Brewing
ABV: 7.2%
Big Ditch Brewing made a name for themselves with their flagship Hayburner IPA. This beer contains all the hoppy goodness you expect from Hayburner but with a tropical twist. The burst of pineapple flavors makes this brew a perfect pick for summer.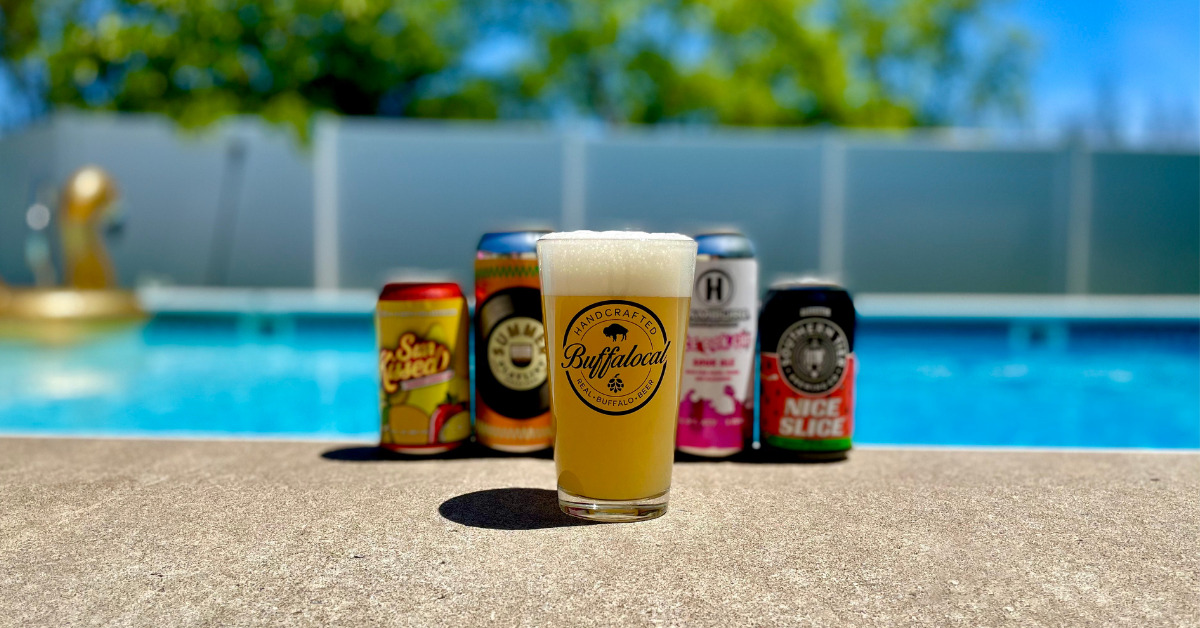 Red, White, and Blueberry 
Brewed by Steelbound Brewery
ABV: 5.0%
If you appreciate American Wheat Ales, add this brew to your bucket list. This easy drinker is fruited with lots of raspberry, coconut, and blueberry. It's made for outdoor patio weather.
Soda Jerk
Brewed by Pressure Drop Brewing
ABV: 4.5%
Skip regular soda and reach for this Pressure Drop's Soda Jerk! This Cherry Limeade Sour has a light body and just the right amount of pucker! The bright lime meets sweet cherry flavor is ideal for quenching your thirst in the heat. 
Summer Playlist 
Brewed by Community Beer Works
ABV: 5.2%
The latest addition to CBW's seasonal lineup is hazy, juicy, and extremely crushable! Plus, this summer-themed wheat beer comes with a super cool Spotify playlist created by CBW employees and fans. It's available now through the end of July.
Sun Kissed
Brewed by 12 Gates Brewing
ABV: 4.5%
Attention all Flo-mingo fans! 12 Gates Brewing is starting the summer with a brand-new collaboration. They teamed up with First Line Brewing to create a strawberry lemonade sour that's made for glorious sunkissed days. 
There's Something About Cherry 
Brewed by Ellicottville Brewing 
ABV: 6.2%
This tart and tangy sour ale is only available in the summer. It's refreshingly sour but won't make your mouth pucker. Think freshly-squeezed lemonade meets just-picked cherries. 
Wallonia Pineapple Wit 
Brewed by 42 North Brewing
ABV: 5.4%
This summer sipper was made for sunny days! It's a seasonal Belgian Ale that's packed with  pineapple flavor as well as the orange and coriander flavors you expect from a Wit.
Buffalo Bluegrass 
Brewed by Blackbird Cider Works
ABV: 8.0%
This semi-dry cider is aged in Kentucky bourbon barrels for bold flavor and hints of vanilla and cloves. The bottles have been around for years, but this summer is the first time Buffalo Bluegrass will be available in limited edition cans. 
Look for Local
When you shop for beer in Buffalo, look for our logo. Bottle shops like Consumer's and grocery stores like Tops or Wegmans are always stocked with Buffalocal brands.
If you're looking to drink local while you're at a craft beer bar in Buffalo this summer, you're in luck. Craft beer in Buffalo is always on draft at our certified accounts.