If you're tailgating without Buffalo beer, you're doing it wrong. Local beer is always at the top of our list, but especially when the Bills are playing.
When it comes to choosing craft beer in Buffalo that's made for tailgating, we have a few favorites. Here are our top 10 picks for the season.
1. Let's Go Pils
Brewed by: Community Beer Works
ABV: 4.4%
This all-American pilsner was brewed for Bills fans. It's crisp, light, and drinkable and most importantly, it pairs well with pizza and wings. If you're looking for an easy drinking beer to enjoy at tailgates, this is it.
2. Make Me Wanna Stout
Brewed by: Big Ditch Brewing
ABV: 5.2%
The Shout song inspired this brew a few years ago. Since then, this coffee and cream stout has become a fan favorite all around Buffalo. It's made with Revolution coffee beans from Public Espresso which gives it a rich coffee flavor and it has a light sweet finish.
3. Table Smasher
Brewed by: 12 Gates Brewing
ABV: 4.5%
Table smashing may be prohibited, but drinking a Table Smasher isn't. This honey kölsch was inspired by the table smashing tradition, but it's much less dangerous. It's brewed with local honey from Bee Country in Darien, NY.
4. A Little Bit Lager Now
Brewed by: Hamburg Brewing
ABV: 6.0%
This ain't any old lager. But rather, a new spin on a classic. You can expect citrus and pineapple hop flavor and since it's lagered at cold temperatures, it drinks smooth and flavorful. Think IPA meets crisp, clean lager.
5. Circle the Wagons 4-Pack
Brewed by Resurgence Brewing
ABV: 4.4% and 6.5%
Nobody circles the wagons like the Buffalo Bills. This variety pack comes with two pilsners and two IPAs in one package, and it's made for football season.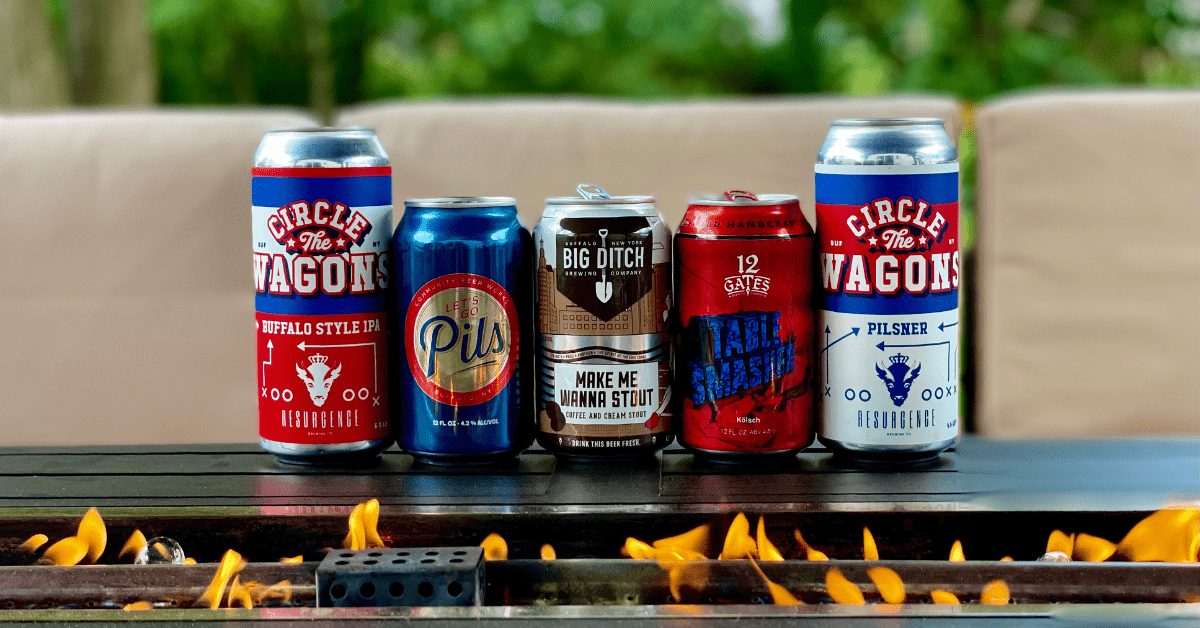 6. Allentown Ale
Brewed by: Steelbound Brewery
ABV: 6.0%
Allentown Ale is part of Steelbound's Buffalo Neighborhood Series. This IPA was named after Allentown, better known as Josh Allentown after last season. You can expect light hop flavor and heavy mango and citrus flavors with lactose.
7. Championship Caliber
Brewed by: Flying Bison Brewery
ABV: 5.0%
This beer by Flying Bison was brewed for champions and the fans who cheer them on. This German-style Kolsch is a must-have for tailgating parties because it has a nice crisp flavor that makes for easy drinking.
8. Poncho's Legacy Lager
Brewed by: 12 Gates Brewing
ABV: 4.3%
The legacy of the most famous Buffalo Bills fan (aka Pancho Billa) lives on thanks to 12 Gates Brewing and Taquito Lindo Artisanal Tacos. Together, they created a Mexican lager to be released just in time for the start of the season. Plus, a portion of sales from the beer will be donated to Panchopacks, a charity that gives school supplies to children in need.
9. 42 North Craft Hard Seltzer
Brewed by: 42 North Brewing
ABV: 4.0%
Buffalo's first craft hard seltzer to be available in cans was made for drinking on the hottest days of the season. It's made with 100% real fruit and only has 100 calories and 0 grams of sugar. It's crafted and canned right in East Aurora and available in 6-packs. You can choose from Strawberry Lime or Wild Berry.
10. Red Barn
Brewed by: BlackBird Cider Works
ABV: 4.8%
This wild fermented, sweet hard cider by Blackbird has a refreshingly full apple flavor and a clean finish that's perfect for sipping from the beginning of the game through the end.
Look for Local Beer in Buffalo
Whether you're watching the game at the stadium, your favorite craft beer bar in Buffalo, or from the comfort of home, Buffalo craft beer is the best choice. You can stock up on these local favorites at Consumer's, Tops, or Wegmans.