Thanksgiving is all about bringing people together to give thanks! If you're thankful for our local craft beer community, make sure to add Buffalo craft beer to your menu. 
Since Thanksgiving dinner is full of many flavors, there's all sorts of pairing possibilities! So we created a guide for pairing beer in Buffalo with your favorite Thanksgiving dishes. 
Turkey
Pair With: Amber Ales or Brown Ales
Remember, the turkey is the star of the show on Thanksgiving! An Amber or Brown Ale can beautifully enhance the best flavors of the meal's roasted centerpiece without stealing the show. 
Buffalocal Picks: Community Beer Works' Imperial Taco Choco Whale, 42 North Brewing's Oatmeal Cookie, Ellicottville Brewing's Ski Bum, Big Ditch Brewing's Cinnamon Apple 
Stuffing
Pair With: Milk Stouts
Let's all agree, you simply can't have Thanksgiving without the stuffing. The hearty, bready mixture that's full of herby flavors and topped with gravy goodness will complement flavors in dark beer styles like Milk Stouts. 
Buffalocal Picks: Southern Tier Brewing's 2XSTOUT, Big Ditch Brewing's Make Me Wanna Stout, Hamburg Brewing's OMS
Mashed Potatoes
Pair With: Scotch Ales or Winter Ales
When compared to the rest of the meal, mashed potatoes are pretty hearty but still fall on the lighter, less flavorful side. So if you're looking for a beer to pair with your potatoes, opt for a more flavorful brew like a Scotch Ale or a Winter Ale. 
Buffalocal Picks:  Southern Tier Brewing's Old Man Winter, Southern Tier Brewing's 2XMAS, 42 North Brewing's Ben Nevis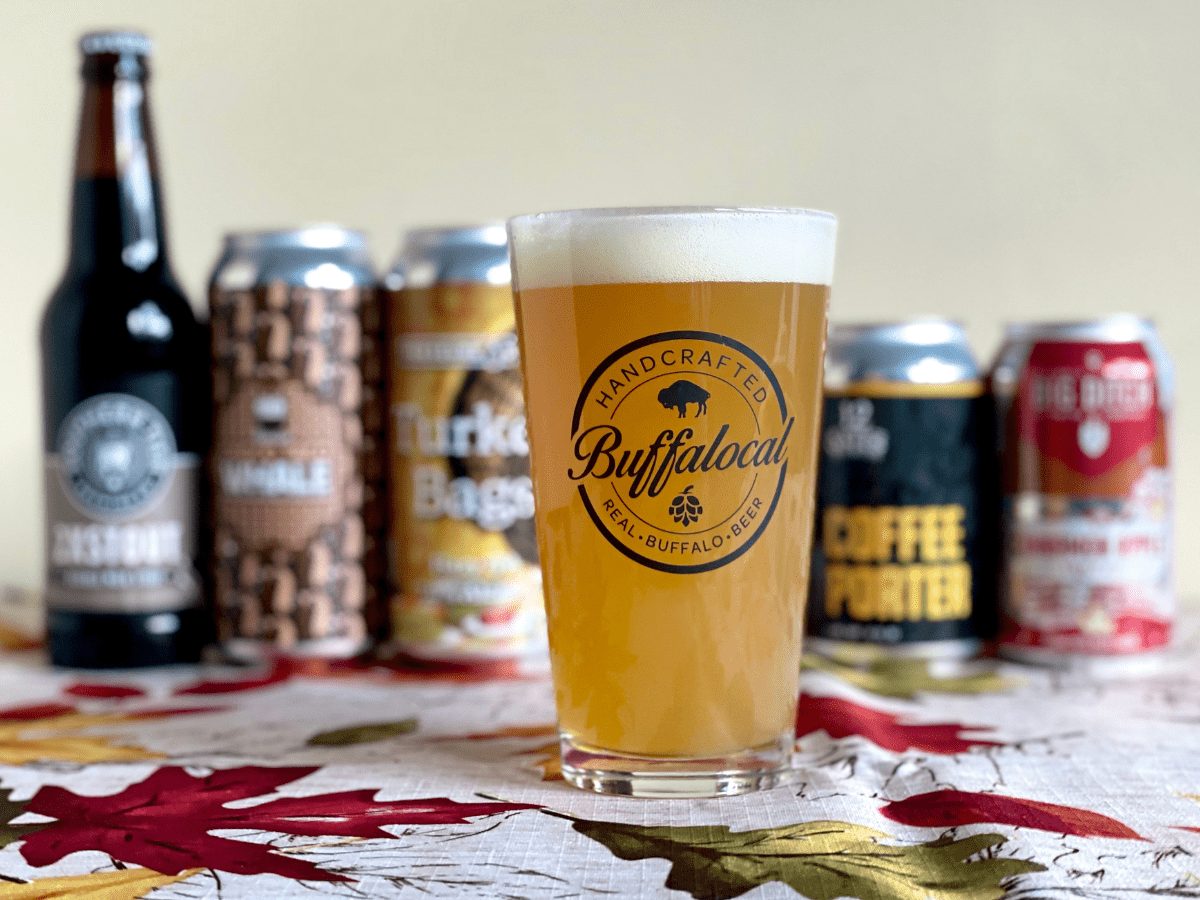 Sweet Potatoes
Pair With: IPAs
This traditional Thanksgiving treat is very sweet, so try pairing it with an IPA because the bitterness can nicely enhance the sweet flavors on your palate.
Buffalocal Picks: Pressure Drop's Turkey Bags, Hamburg Brewing's Frosty the IPA, Big Ditch Brewing's Cyclops Romance, Resurgence Brewing's McKinley's Revenge 
Pumpkin Pie
Pair With: Porters
Never skip dessert, but especially on Thanksgiving! As you reach for a slice of pumpkin pie to finish up your family feast, pair it with a Porter to complement and bring out the pie's spices. 
Buffalocal Picks: Steelbound Brewery's Fat Porter, 12 Gates Brewing's Coffee Porter, Pressure Drop Brewing's Buckstar, Flying Bison Brewing's Brindle Porter 
Look for Local 
When it comes to holiday pairings, Buffalo beer is the best choice. As you're shopping for craft beer in Buffalo, look for our logo. Bottle shops like Consumer's and grocery stores like Tops and Wegmans are always stocked with Buffalocal brands.
If you're celebrating at a craft beer bar in Buffalo, ask them what Buffalocal options they have on tap.