Buffalo Beer League shares our passion for building community and supporting local breweries all around Buffalo.
Brian Campbell and Scott McMillan started Buffalo Beer League back in 2010 as a reason to get together, try new beers, and have a good time along the way.
Since then, Buffalo Beer League has grown to become a trusted local resource for what's going on in the Buffalo beer community. In addition to being a promotional outlet for Buffalo's local beer scene via their social media and beer beer blog, Brian also writes the weekly Buffalo Beer Buzz column on Step Out Buffalo.
As resident experts on everything Buffalo beer related, we asked Brian and Scott to share their favorite beers from Buffalocal breweries with us. Here's what they had to say…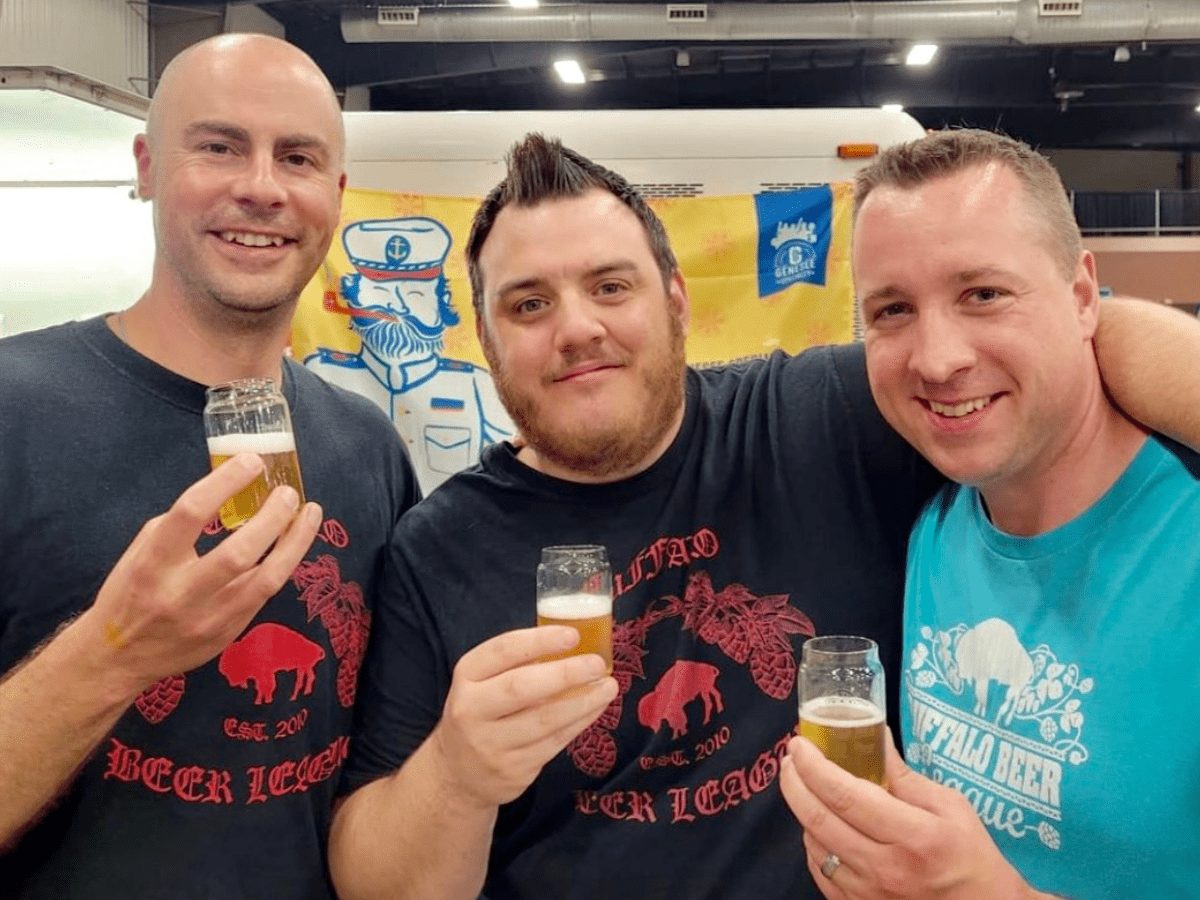 Meet Brian Campbell
Brian Campbell is the co-founder of Buffalo Beer League and passionate about promoting all of the great beer that is being brewed locally. He loves the variety in craft beer and the ingenuity of the brewers. 
In addition to promoting the local beer scene, Brian has gotten into festival planning, volunteer staffing, and beer event judging.
Brian's favorite beer style is a fluid conversation, but he typically leans toward a well-crafted lager. As much as he tries, he just can't quit IPAs. It's all that ever seems to be in his beer fridge. He'll also never turn down fruited sours, stouts, or anything barrel aged.
Brian's Top 3 Buffalocal Picks:
Borderland IPA from 42 North Brewing Company
"Borderland is a go-to flagship IPA for me and the best beers available locally when fresh – the orange and hops just pop."
Let's Go Pils from Community Beer Works
"There isn't much that needs to be said about Let's Go Pils that hasn't been said – it's clean, crisp and just a beautiful beer."
Strummer from Pressure Drop Brewing
"Strummer is a classically done Belgian Blonde Ale with light fruit and nice Belgian spice notes. It's a refreshing beer."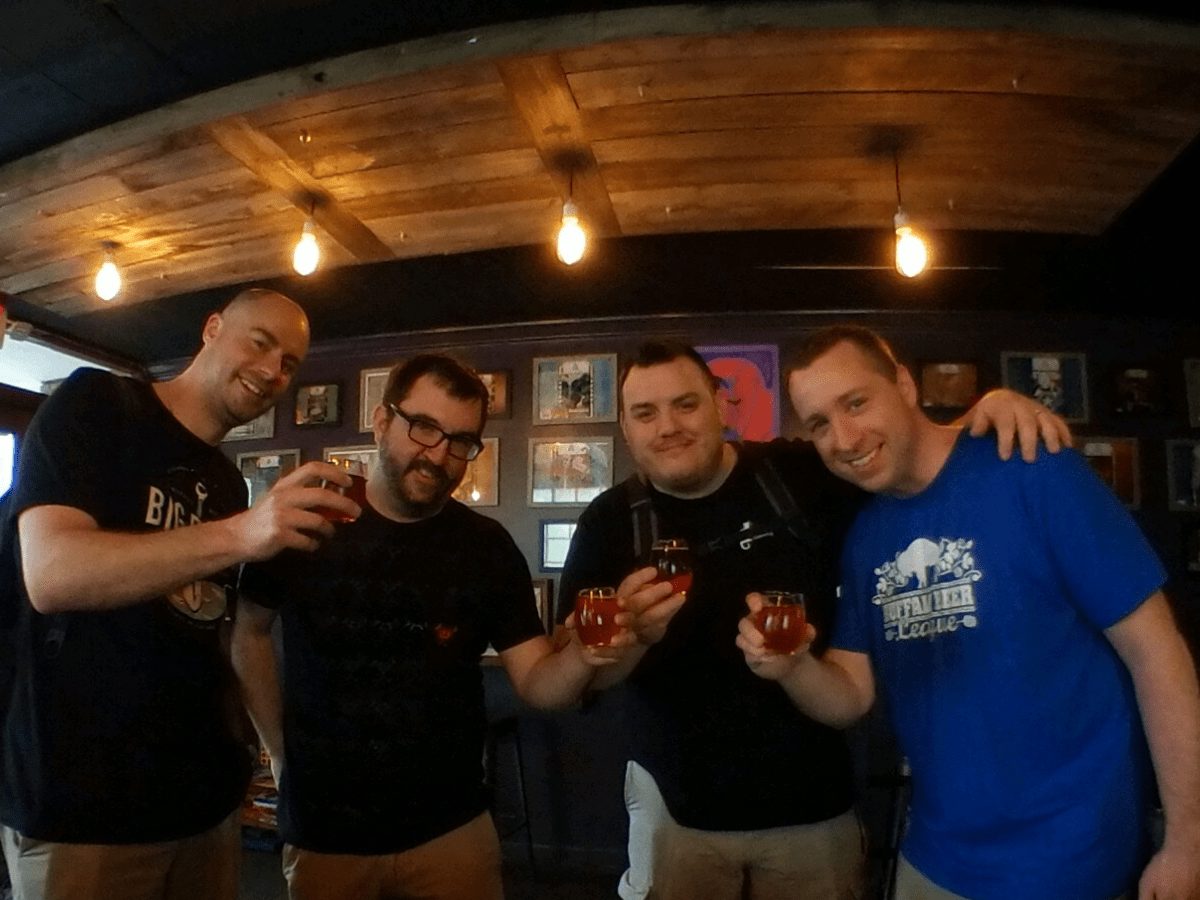 Meet Scott McMillan
Scott McMillan is an avid craft beer consumer and the co-founder of Buffalo Beer League. Scott sat on the board of the former Buffalo Niagara Brewers Association. He has also helped plan and run beer festivals, judge in brewing competitions, and assist with brewing several beers with various local breweries. 
Scott doesn't have a favorite beer style in general. Right now he's drinking Helles Lagers or good Lagers in general whenever he can find them. He also really enjoys a good Scotch Ale or English-Style Pale Ale at this time of year.
Scott's Top 3 Buffalocal Picks:
Sticky Trees from Pressure Drop Brewing
"A breath of fresh air in a world of hazy thick IPAs. It's a dank, piney, old school west coast IPA done right with a drinkable body and classic dry hoppy bitter finish."
The Whale from Community Beer Works
"Flavorful with loads of roast coffee and chocolate notes but still light enough in body and ABV to enjoy a few pints."
Bridge Pilsner from Resurgence Brewing Company
"Crisp, light, and clean, but still plenty flavorful. Great for any occasion, but it's best while enjoying the hot summer weather sitting by the pool or campfire. "
Drink Local
If you're looking for craft beer in Buffalo to try, start with the recommendations from Buffalo Beer League.
Remember to look for Buffalocal beers at your favorite craft beer bars in Buffalo and when you're shopping for beer in Buffalo at bottle shops and grocery stores. Plus, you can always find Buffalo craft beer at our certified accounts.