Our new Drink Local series highlights bars around Buffalo where you can find Buffalo craft beer and cider on tap.
For this edition, we are featuring Jack Rabbit, Mr. Goodbar, and Breezy Burrito Bar in the Elmwood Village. We asked them why drinking local is important to them.
Here's what they had to say:
1010 Elmwood Avenue
Jack Rabbit is newer to the local craft bar scene (their one year anniversary is coming up in May), but having local beer on tap was always part of the plan according to owners Josh Mullin and Jake Monti. 
"It was important to us from day one. It was in our business plan that all craft beer will be local," said Josh. 
The reason hits close to home, literally. 
"We both own property in the city. We've worked for breweries in Buffalo. I think we could name the head brewer of every brewery we carry. They're our friends. We like to support them and their families," said Josh.  
Josh and Jake met at Thin Man Brewery and later decided to open Jack Rabbit along with Simon Wilson and Leacel Hillenbrand.
"We are big believers in the city and friends with most of the guys that make the beer," said Jake. "To be honest, it's pretty easy because Buffalo brewers make good stuff. There's a lot of great beer in Buffalo."
The tap list at Jack Rabbit is full of local beer options. 
If you're looking for Buffalocal options at Jack Rabbit, you can currently find Hayburner by Big Ditch Brewing and The Whale by Community Beer Works on tap.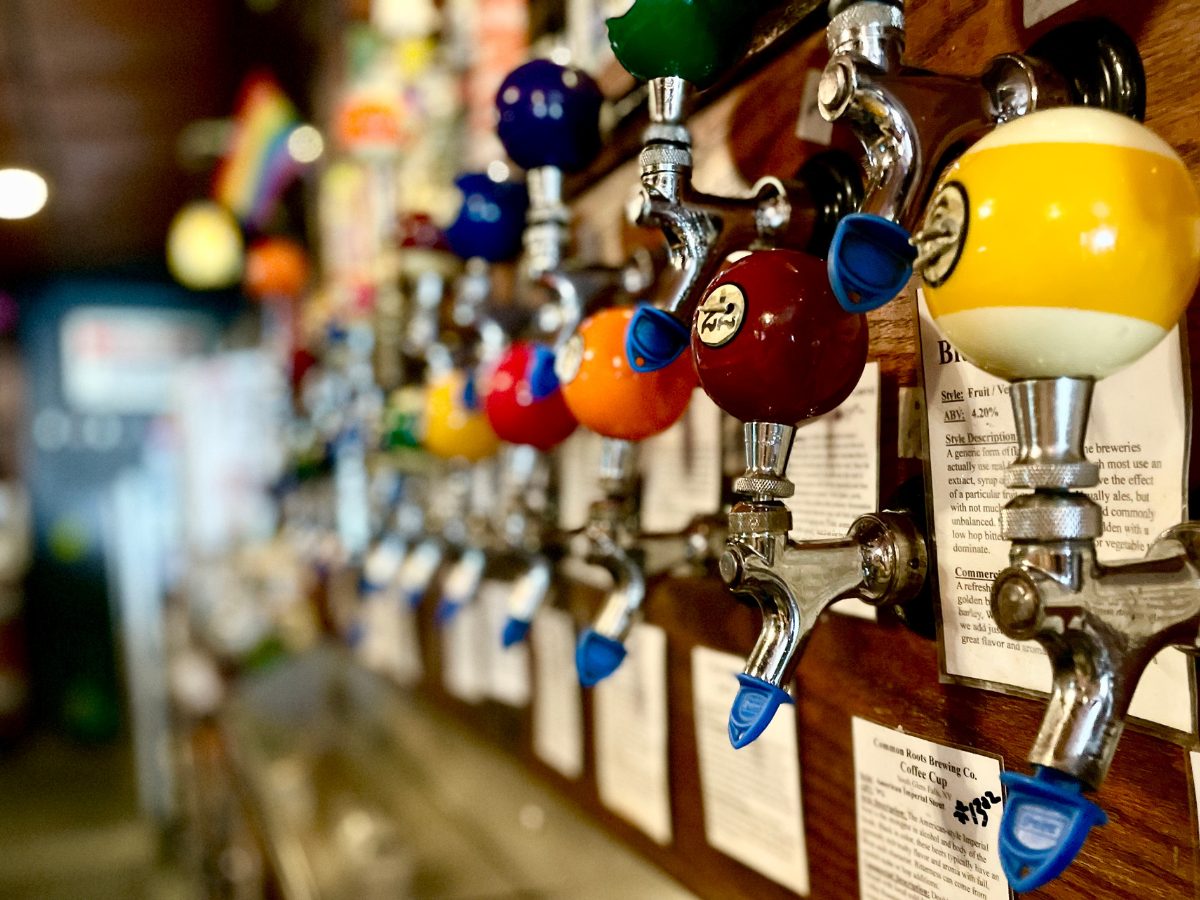 1110 Elmwood Avenue
Mr. Goodbar has been around for years and years (54 to be exact) and having Buffalo beer on tap has been a priority of theirs for decades.
The owner Bobby Robb has been hosting The Good Beer Club once a month for the past 20 years where he brings different beers in for members to taste with an emphasis on featuring local breweries. 
Managers Cait Margerum and Sam Stauch believe drinking local benefits everyone involved.  
"Flying Bison's Rusty Chain has been on the first tap since I've been here and I've been here for 10 years. When Bobby bought the bar in 2010, he vamped up the tap lines and incorporated a lot of local beer," said Cait. 
"Drinking locally sourced beers keeps money here and it brings all the local businesses together. We carry a lot of local beers and a lot of staff members at those breweries come and hang out with us and we go see them," Cait added.
"I feel like every day of the week, we know which breweries are going to come in. On Sundays I'm going to see CBW and Big Ditch at the bar. Later that week I'll go in there and see them," said Sam. 
If you're looking for Buffalocal options at Mr. Goodbar, you can currently find Rusty Chain by Flying Bison, Let's Go Pils by Community Beer Works, and Sticky Trees by Pressure Drop Brewing on tap. 

1000 Elmwood Avenue
Briana "Breezy" Hunter was born and raised in the restaurant industry. She grew up in her family's Tex-Mex restaurant and she was serving at 16 and bartending by 18. 
She opened Breezy Burrito Bar in 2016 and she relocated to her current location on Elmwood Avenue in 2019. As a member of the community, supporting local business is very important to Briana. 
"I take very seriously my responsibility as a business owner and community member to support small businesses whenever possible. It's not only important to drink and eat local, but also shop and think local," Briana said.  
That's why you'll find local beer options on tap at this trendy neighborhood taqueria in addition to their full cocktail menu. 
"I have forged many relationships with local brewers, taproom managers and bartenders throughout our food and beverage scene. The product produced in WNY holds up next to any region nationally," said Briana. 
"We've all just pulled out of a global pandemic, and those of us left standing know that every dollar spent inside the community helps the entire community. Buffalo truly is the city of good neighbors, and we're lucky those values extend to the small business community," she added. 
If you're looking for Buffalocal options at Breezy Burrito Bar, they have 5 rotating draft lines. You can currently find That IPA and The Whale by Community Beer Works, Hayburner by Big Ditch Brewing, Soda Jerk Cherry Lime by Pressure Drop, and Red Barn by Blackbird Cider Works on tap. 
Drink Local
If you're looking to support craft beer made in Buffalo, look to your neighborhood bars. When you drink local, you're in good company. On the next visit to your favorite craft beer bar in Buffalo, ask them about their local options.