There's simply nothing better than an ice cold beer on a hot summer day!
Whether you're sitting on a patio, laying by the pool, chilling at the beach, grilling in your backyard, or even mowing your lawn, Buffalo beer is a must have.
The start of summer brings a long list of releases from Buffalocal brands, including everything from hazy IPAs to fruited sours to light summer ales. 
When it comes to craft beer in Buffalo, you have a lot of options. Here are 13 crushable beers and ciders to add to your summer bucket list. 
Our Buffalo Craft Beer and Cider Picks
: 
Summer Daze
Brewed by 12 Gates Brewing
ABV: 6.2%
As the name suggests, this beer was brewed for this season. This Hazy IPA is double dry-hopped with Citra, Mandarina Bavaria, Huell Melon, and Simcoe hops. Your day might get a little hazy after a few of these, so make sure to hydrate responsibly. 
Summer Playlist
Brewed by Community Beer Works
ABV: 4.5%
You'll want to drink this Hefeweizen on repeat all summer long. It's a lighter take on the traditional German style which makes it extra refreshing on a sunny day. Plus, each can includes a QR code to bring you to a summer playlist of songs created by Community Beer Works.
Buffaloha
Brewed by Flying Bison Brewing 
ABV: 5.5%
Say aloha to a summer ale that's made for drinking all day long. It's crisp and full of summer flavors like passionfruit and pineapple. It's the perfect pick for drinking poolside. 
For The Love of Summer Ale
Brewed by Resurgence Brewing
ABV: 5.0%
This Golden Ale is an easy drinker, especially on a hot summer day. Its hints of lemon and orange zest create a flavor and aroma that's refreshingly citrusy.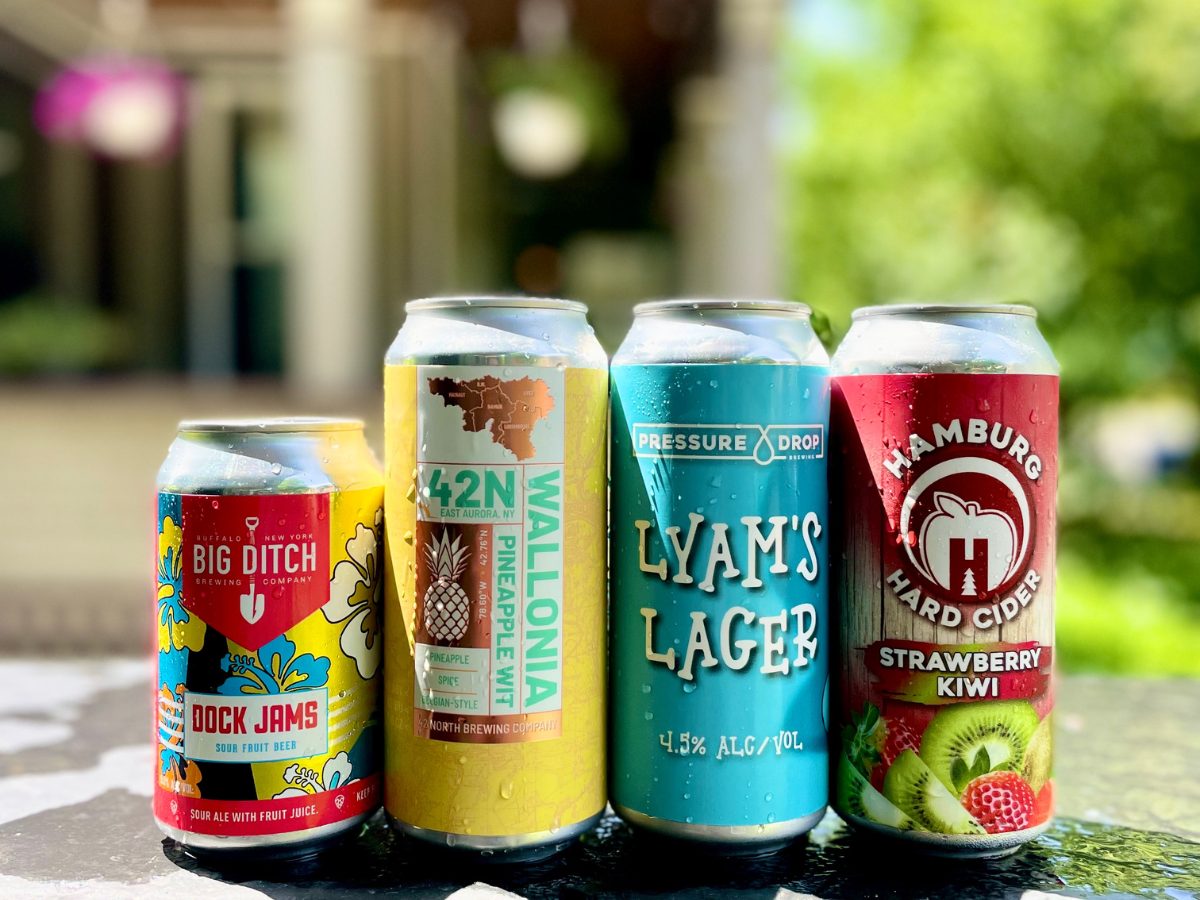 Dock Jams
Brewed by Big Ditch Brewing
ABV: 5.0%
This Fruited Sour Ale is brewed with hibiscus flowers and New York State grape juice. It pours as bright, and brilliantly red as fruit punch, but it's refreshingly tart, naturally fruity, and full of big floral aroma. 
Pineapple Wallonia Wit
Brewed by 42 North Brewing
ABV: 5.4%
When it comes to summer sippers, this Belgian Witbier comes to mind. It's packed with pineapple, orange, and coriander and its low ABV keeps it crushable. 
Lyam's Lager
Brewed by Pressure Drop Brewing
ABV: 4.5%
Lyam's Lager was brewed and named in memory of Lyam Frank, a former patient at Oishei Children's Hospital. It's a crisp, light lager that anyone can enjoy this summer. With every beer you drink, a portion of the proceeds are donated to Oishei Children's Hospital. 
Strawberry Kiwi Hard Cider
Brewed by Hamburg Brewing 
ABV: 6.0%
This slightly tart and refreshing cider was made for summer days. It's made with locally sourced New York State apples and full of fresh strawberry and zesty kiwi flavor. 
Ruby Red 8 Days a Week
Brewed by Southern Tier Brewing
ABV: 4.8%
If you're looking for an ale that's infinitely drinkable, this is it! This seasonal spin on the classic 8 Days a Week is bursting with grapefruit and citrus flavor and its low alcohol content makes it ideal for drinking multiple days a week. 
Red, White & Blueberry
Brewed by Steelbound Brewery 
ABV: 5.0%
This Fruited Wheat Ale is brewed with raspberry, blueberry, and coconut. It's refreshingly easy to drink making an ideal pick for picnic season, especially patriotic ones. 
Lakeside Loganberry
Brewed by Blackbird Cider Works
ABV: 6.5%
This Medium Dry Cider was inspired by one of the city's favorite flavors. When you sip on this, you'll taste the original loganberry flavor you know and love, but with a crisp, refreshing twist. 
Mow Master
Brewed by Ellicottville Brewing 
ABV: 5.0%
You might not love summer yard work, but cracking open this beer can make the time pass quicker. This Summer IPA is hoppy and refreshing enough to quench your thirst on the hottest days of summer.
Dad Noises
Brewed by West Shore Brewing 
ABV: 5.0% 
This IPA was made to celebrate all the moans and groans of fatherhood. It's hopped with Chinook and double dry hopped with Citra to give it notes of citrus and melon.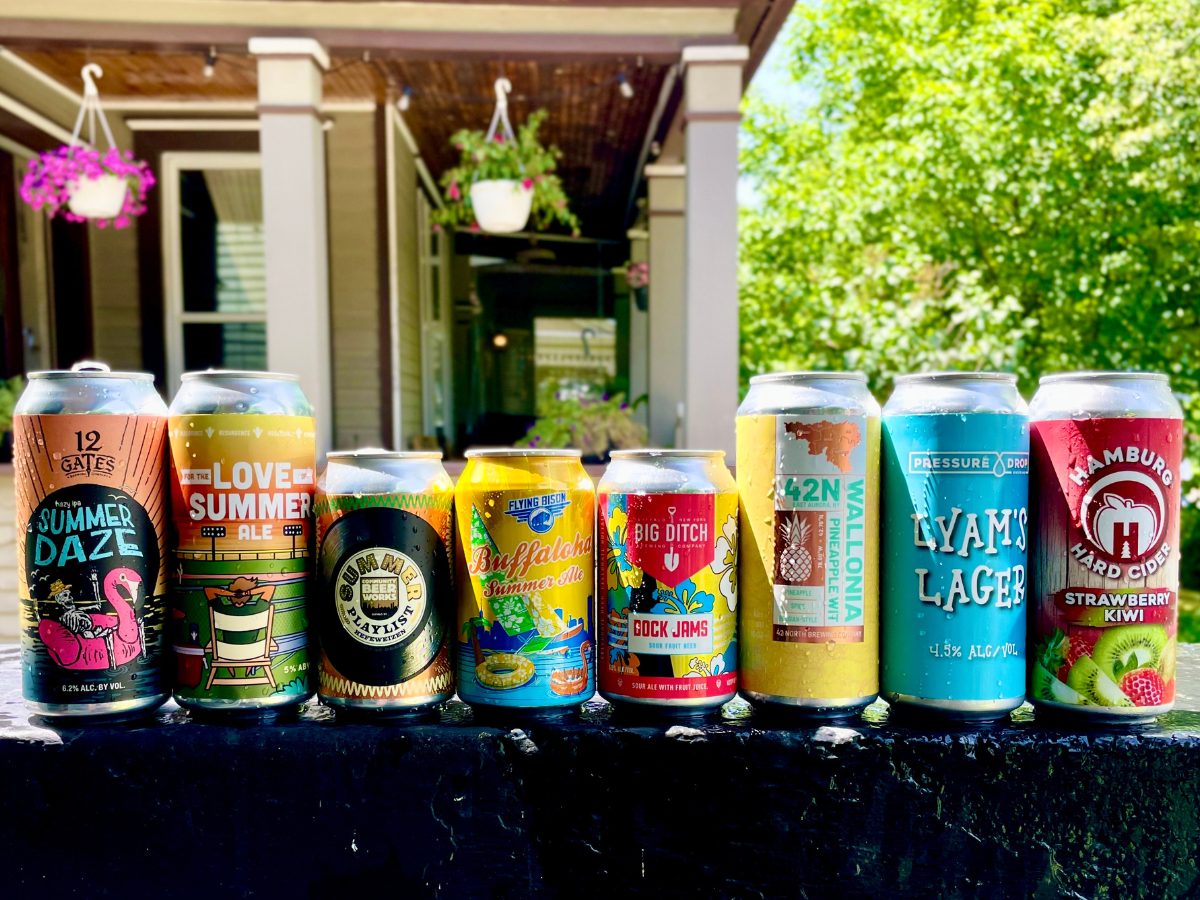 Look for Buffalocal
You can find these summer picks at your favorite craft beer bars in Buffalo and wherever local beer in Buffalo is sold including bottle shops and grocery stores.