We believe the best beer is made in Buffalo. One of the best ways you can support the local beer community is by asking for local options whenever you're drinking at a local bar. There's bars all around Buffalo offering local beer options. For this edition of our #DrinkLocal series, we are featuring Alchemy Wine & Beer, Lago 210, and Butera's Craft Beer & Craft Pizza in Hamburg. 
We asked them why drinking local and supporting craft beer in Buffalo is important to them. 
20 Union Street, Hamburg
This wine and beer bar's selection is next level. You'll find wines from as close as New York and as far as California, France, Spain, and South America here. Plus, they have 40 varieties of beer here, including a beer fridge that's fully stocked with Buffalo beer and cider. 
Co-owners Anne McIntosh and Nicole Casell are Level 1 Sommeliers who opened Alchemy four years ago with the hope of bringing excellent beverages to Hamburg in an approachable and affordable way. 
"We pride ourselves on having a selection of wines that you can't get at most places. We source from growers around the world who practice sustainable farming, organic growing (where available) and family-run and owned wineries," said Anne and Nicole.
"Some of the best products come right out of Buffalo! We need to support our local NYS hop growers, breweries to keep everyone who works in the industry employed," explained Anne and Nicole.
You can find a variety of Buffalocal beers and ciders in the beer fridge at Alchemy, including tried-and-true favorites and seasonal releases from Community Beer Works, Hamburg Brewing, Blackbird Ciderworks, Resurgence Brewing, Big Ditch Brewing, and Ellicottville Brewing.
4038 Hoover Road, Hamburg
This waterfront destination is located right along the shoreline, just steps away from Lake Erie. Lago 250 is a beautiful place to sit back, relax, and take in the sprawling views. 
Their drink menu includes craft beer, wine, and cocktails. Having a variety of options for beer loving guests is important to Audrey and Jordan Zybala, the owners of Lago 210. 
Audrey has owned and operated Sweet Pea Bakery for the past 6 years. Jordan is new to the industry, but is catching on quickly and making a huge impact at Lago 210. Together Jordan and Audrey opened Lago 210 in May 2021.
"Supporting fellow local businesses is a passion of ours. At Lago 210, we have an eclectic menu with influences from around the world, but we always try to source as much as we can locally. Our beer selections have always been focused on utilizing the many talented breweries around Buffalo," explained Audrey. 
If you're looking for Buffalocal options at Lago 250, you can currently find Hayburner and Dock Jams by Big Ditch Brewing, Blueberry Wheat by Ellicottville Brewing, Sticky Trees by Pressure Drop on tap. 
They also have cans of Erie County Fair Cider by Blackbird Ciderworks, Nice Slice by Southern Tier Brewing, Lake View Lager by Hamburg Brewing, Green Heart IPA by Resurgence Brewing down at their Lago Beach Bar.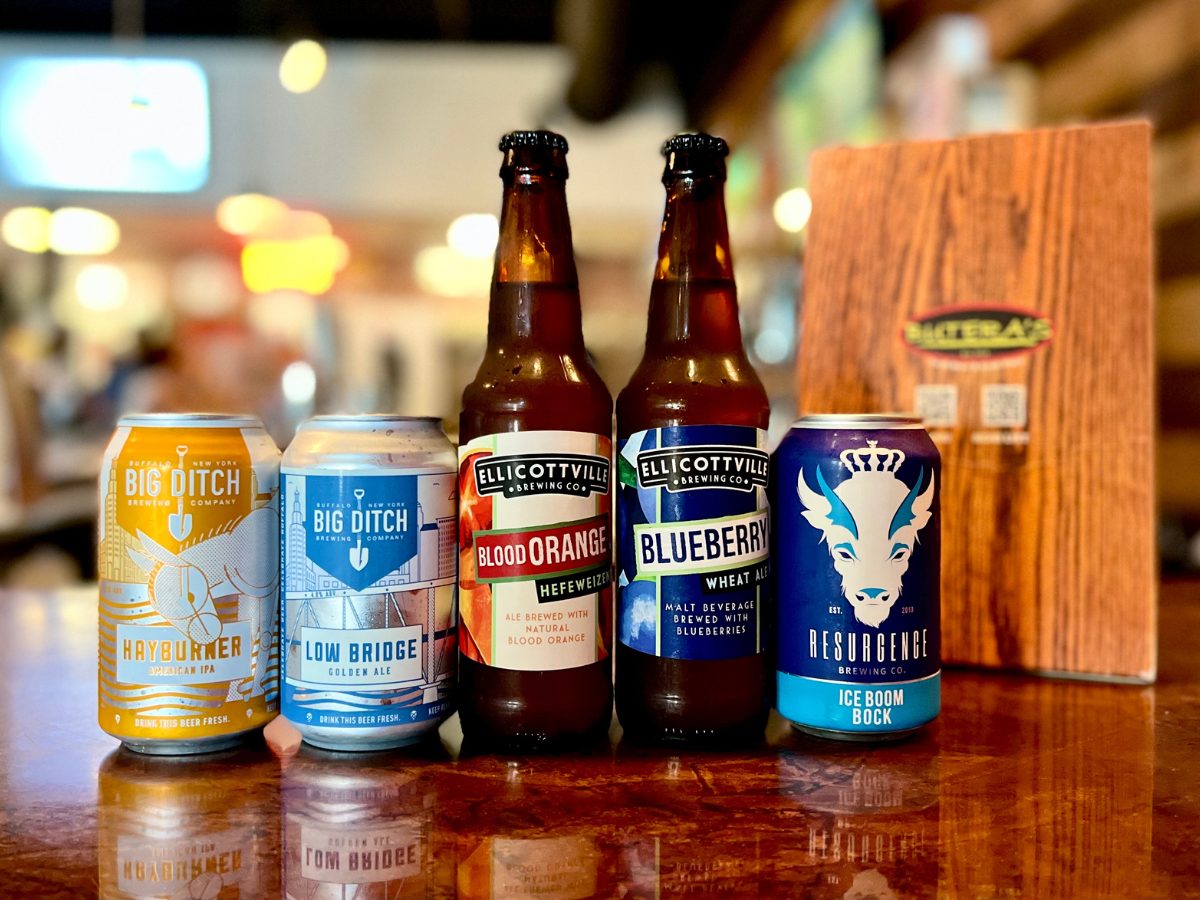 32 Main Street, Hamburg
Jimmy Butera has been working in restaurants his whole life. He opened his first pizzeria, Jimmie's Pizza, back in 2006, which he ran for 10 years before opening Butera's in 2015.
Butera's continued the tradition of focusing on fresh, local ingredients. From their homemade dough to their homemade sauces, they pride themselves on using the freshest ingredients to create their brick oven pizzas. 
Their emphasis on using fresh, local ingredients extends to their beverages. They brew their own beers and they stock cans and bottles from Buffalo breweries behind the bar. 
"I think drinking local is very important to help keep our communities flourishing and keep local people employed. This is not just on a brewery basis, but think about the ingredients and other materials that come from locally owned and operated businesses as well," said Jimmy. 
You can find Buffalocal beers at Butera's, including beers from Big Ditch Brewing, Resurgence Brewing, and Ellicottville Brewing right now.
Drink Local
If you're looking to support craft beer made in Buffalo, look to your neighborhood bars. When you drink beer in Buffalo, you're in good company. On the next visit to your favorite craft beer bar in Buffalo, ask them about their local options.
Our #DrinkLocal series highlights bars around Buffalo where you can find Buffalo craft beer and cider on tap or behind the bar.