Buffalonians love Buffalo beer almost as much as they love Buffalo football, so local breweries brew beers specifically for game day.
From fan favorites to brand-new beers, there's plenty of craft beer in Buffalo that's made for drinking during football season. 
Here's our top 12 picks to stock up on this season: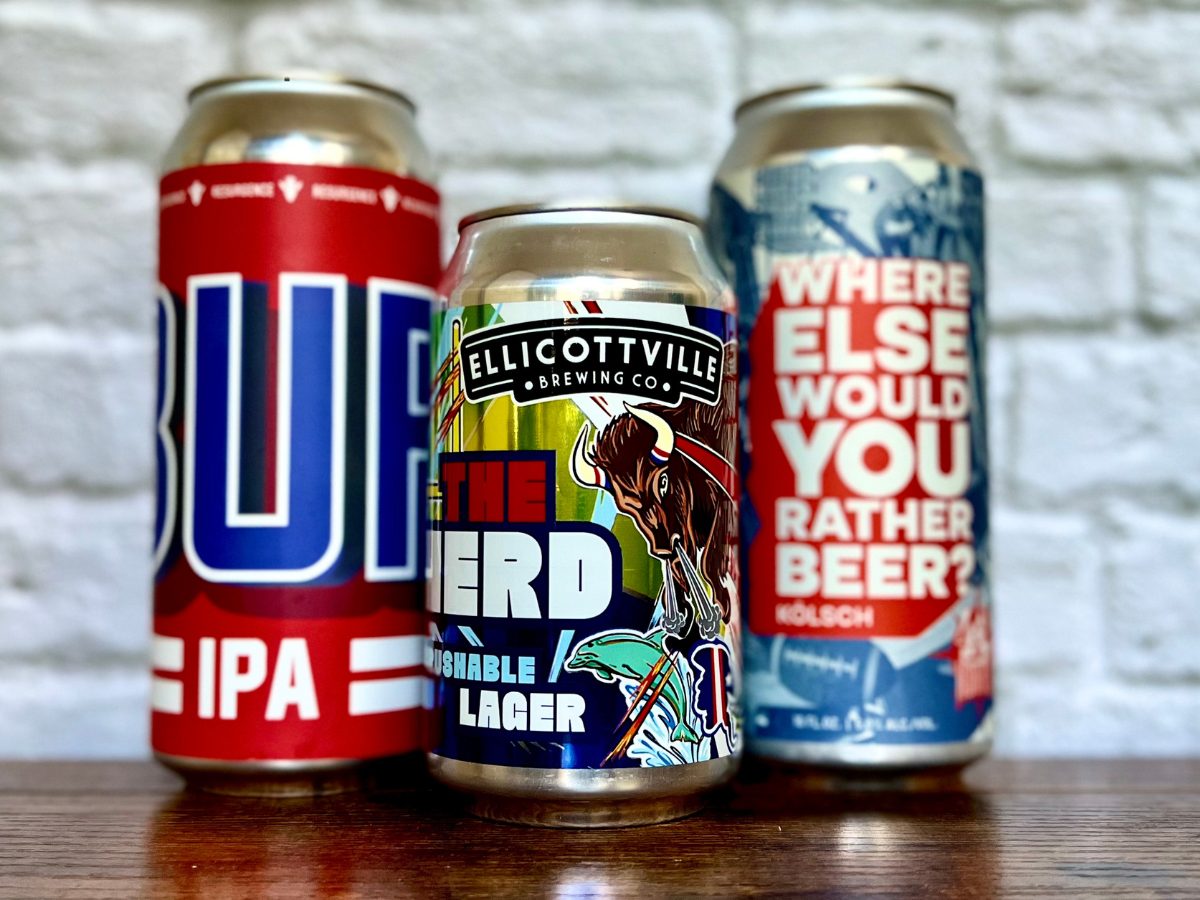 1. Tailgate Time
Brewed by: Ellicottville Brewing
ABV: 5.0%
This brand-new Gameday IPA from EBC was brewed for tailgating! You'll notice some of your favorite tailgaters like Bills Elvis and Pancho Billa are featured on the can. It's smooth and crushable, which is ideal for drinking on game days. 
2. Not a Football Beer
Brewed by: Pressure Drop Brewing
ABV: 5.2%
New this season, this is definitely not a football beer… or is it? You'll have to try it to decide. This ultra-crushable session beer is extremely light, crisp, and gently hopped with Cascade for a touch of hop aroma and minimal bitterness. 
3. Where Else Would You Rather Beer?
Brewed by: 42 North Brewing
ABV: 5.0%
When our team is playing, watching the game and drinking Buffalo beer is exactly where we want to be. This light, refreshing, and crushable Kölsch was brewed for those days.
4. BUF IPA
Brewed by: Resurgence Brewing
ABV: 6.5%
This Buffalo-style IPA is tropical, dank, and robust just like training camp. It's brewed with Citra and Cashmere hops. If you're looking for something hazy to drink on game day, this is it!
5. The Herd
Brewed by: Ellicottville Brewing
ABV: 5.7%
This crushable, easy-drinking Lager is more flavorful than the typical pale lager but still has a soft, light finish. It's brewed to complement all your favorite game day dishes including everyone's go-to chicken wings.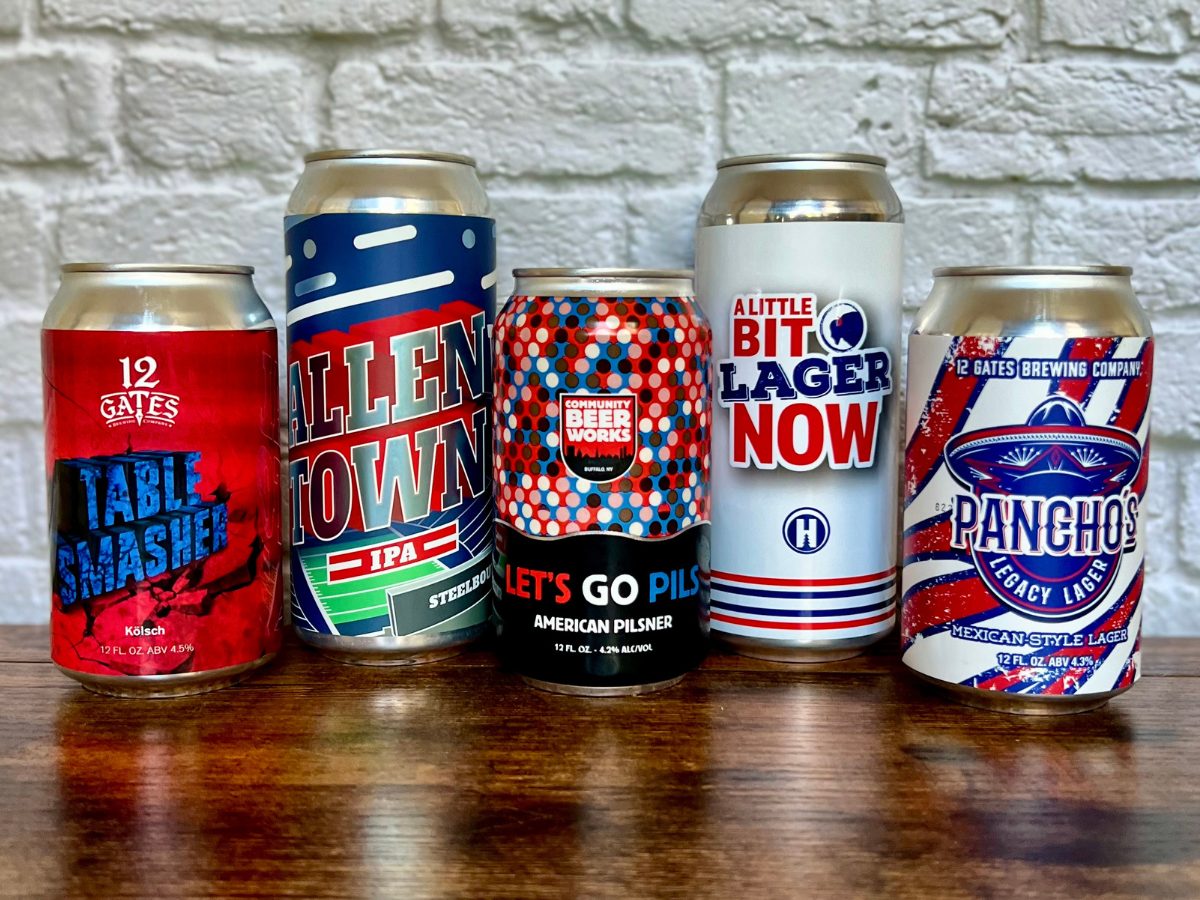 6. Let's Go Pils
Brewed by: Community Beer Works
ABV: 4.2%
This all-American pilsner was brewed for Buffalo football fans. It's very dry, crisp, and brilliantly clear. The addition of Hallertau Blanc hops produces a delicate aroma of melon and grape. If you're looking for an easy-drinking beer to enjoy at tailgates, this is it.
7. Make Me Wanna Stout
Brewed by: Big Ditch Brewing
ABV: 5.2%
The Shout song inspired this brew. Since then, this coffee and cream stout has become a fan favorite all around Buffalo. It's made with Revolution coffee beans from Public Espresso which gives it a rich coffee flavor. It also has a light roast from the roasted barley, a light sweet finish from the milk sugar, and a creamy body from the oatmeal. 
8. Table Smasher
Brewed by: 12 Gates Brewing
ABV: 4.5%
Table smashing may be prohibited, but drinking a Table Smasher isn't. This honey Kölsch was inspired by the table smashing tradition, but it's much less dangerous and it's brewed with real local honey. 
9. A Little Bit Lager Now
Brewed by: Hamburg Brewing
ABV: 6.0%
This ain't any old American lager. But rather, a new spin on a classic. You can expect citrus and pineapple hop flavor and since it's lagered at cold temperatures, it drinks smooth and flavorful. Think IPA meets crisp, clean lager.
10. Circle the Wagons 4-Pack
Brewed by Resurgence Brewing
ABV: 4.4% and 6.5%
Nobody circles the wagons like Buffalo. This variety pack comes with two pilsners and two IPAs in one package which make it a perfect pick for football season.
11. Allentown Ale
Brewed by: Steelbound Brewery
ABV: 6.0%
This IPA was named after Allentown, which is better known as Josh Allentown now. You can expect light hop flavor and heavy mango and citrus flavors with a mild and clean finish from this Ale. 
12. Pancho's Legacy Lager
Brewed by: 12 Gates Brewing
ABV: 4.8%
The legacy of the most famous Buffalo football fan (aka Pancho Billa) lives on thanks to this Mexican-style Lager. This year, 5.14% of the proceeds will be donated to Harrison's Playmakers, who promotes social inclusion and kindness with year-round sports programs and activities for kids with developmental differences and special needs.
Look for Local Beer in Buffalo on Game Day
Whether you're watching the game at the stadium, your favorite craft beer bar in Buffalo, or at home, Buffalo craft beer is the best choice. You can stock up on these game day beers at local bottle shops, grocery stores, and beverage stores around Buffalo!