It's the most wonderful time of the year to enjoy Buffalo craft beer! Our winter bucket list includes everything from spiced winter brews to sweet pastry ales to rich, decadent stouts to Christmas cider. 
If you're looking for Buffalo beer and cider to enjoy during the snowy months ahead, add these brews to your winter bucket list. 
Our Winter 2022 Picks: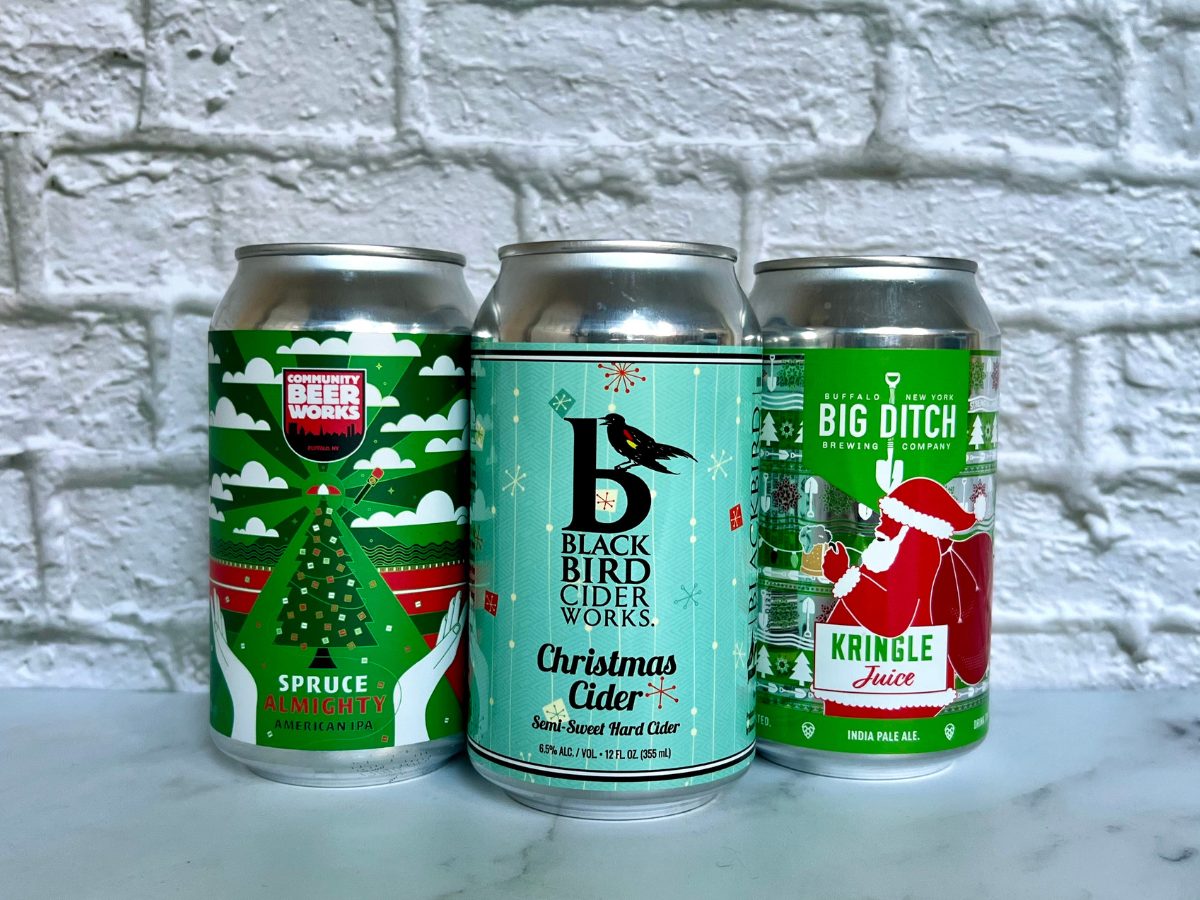 Spruce Almighty
Brewed by Community Beer Works
ABV: 6.5%
This Seasonal IPA is brewed with classic American 'C' hops to give it punchy notes of citrus and pine and black spruce tips give it an extra boost of piney flavor.
Christmas Cider
Brewed by Blackbird Cider Works
ABV: 6.5%
Just like Christmas, this Spiced Cider only comes once a year! It's become an annual tradition here in WNY. You can enjoy it warmed or chilled, it's up to you! 
Brewed by Big Ditch Brewing
ABV: 7.0%
This juicy IPA was brewed for everyone's favorite man in red. When you take a sip, you'll notice notes of orange and tangerine in the aroma which blend perfectly with flavors of pear and kiwi.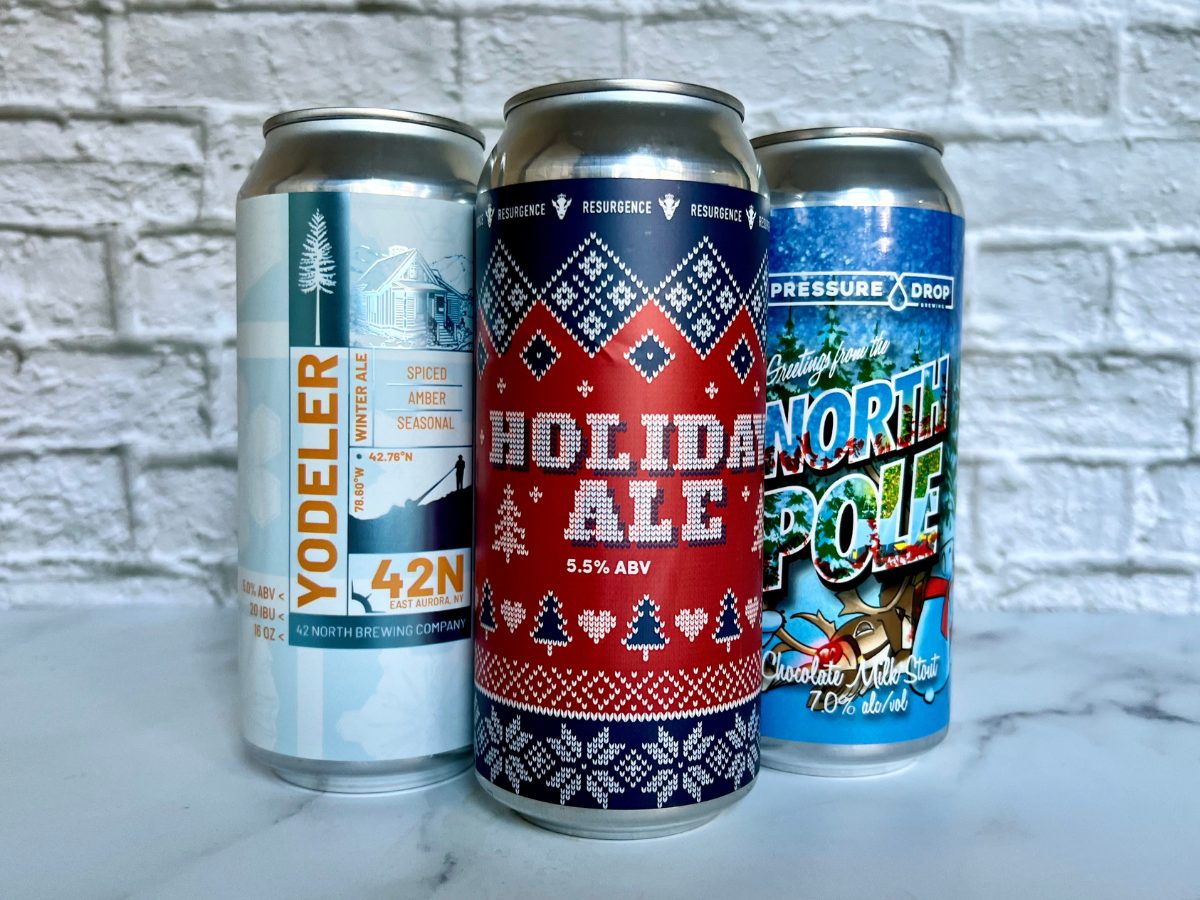 Brewed by 42 North Brewing
ABV: 5.0%
After a day on the slopes, a winter ale warms you up in all the right ways. This Spiced Amber Ale, featuring hints of ginger, cinnamon, and just a touch of vanilla, was named after a popular ski slope in Ellicottville. 
Holiday Ale
Brewed by Resurgence Brewing
ABV: 5.5%
This Spiced Ale features sweet flavors of nutmeg, cinnamon, and more holiday spices! Plus, it features an Ugly Sweater label making it an extra festive find for your upcoming holiday parties. 
Brewed by Pressure Drop Brewing
ABV: 7.0%
This Chocolate Milk Stout is brewed with lots of roasted chocolate malt plus lactose for rich flavor and a sweet, creamy mouthfeel.⁠ It'll keep you warm and toasty on cold nights all season long.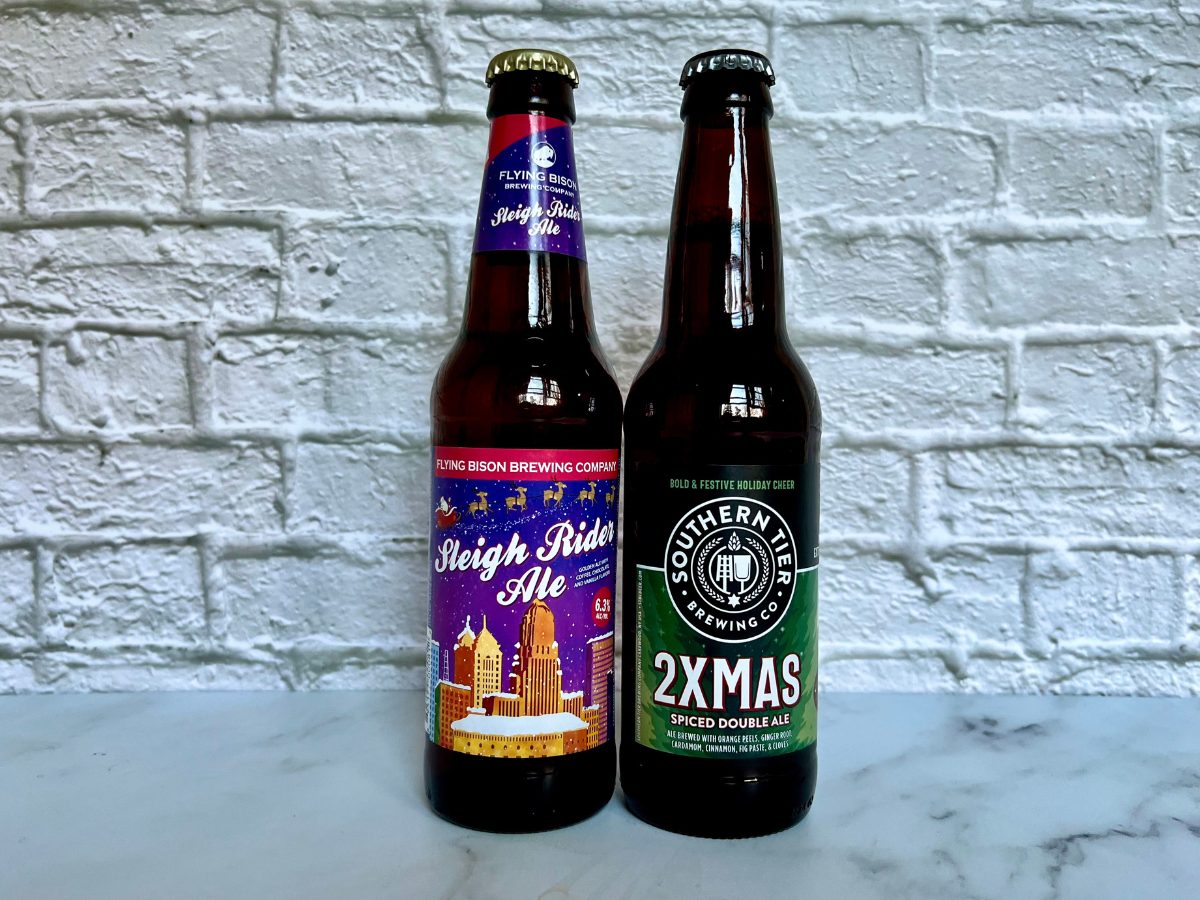 Brewed by Flying Bison Brewing 
ABV: 6.3%
This malty Golden Ale is approved by Santa himself. It's brewed with light roasted Brazilian coffee, chocolate, and vanilla. If you find yourself reaching for a roasty beer on a cold winter day, this brew is for you.
Brewed by Southern Tier Brewing
ABV: 8.0%

This winter warmer is a holiday classic because it tastes like Christmas in a bottle. It combines the traditional brewing ingredients of Swedish Glögg, including figs, orange peels, cardamom, cinnamon, clove, and ginger root. But unlike Glögg, it's best served chilled.
Bourbon Barrel-Aged Yule Shoot Your Rye Out
Brewed by Hamburg Brewing 
ABV: 6.0%
This fragile (fra-gee-lay) edition of Yule Shoot Your Rye Out was aged in Bourbon barrels. The result is a bready rye ale spiced with ginger that will surely get you into the holiday spirit. 
Seasonal Christmas Cookie Stout
Brewed by Steelbound Brewery 
ABV: 8.0%
This Blonde Stout is brewed with lactose, vanilla, all spice, star anise, and cinnamon to give it a flavor profile that will remind you of Santa's seasonal treat of choice. 
Brewed by 12 Gates Brewing
ABV: 5.5%
This Spiced Amber Ale is brewed with a delicious mix of cinnamon, nutmeg, allspice, and ginger with notes of bread and sweetness. It can enhance and complement your favorite holiday dishes. 
Brewed by Ellicottville Brewing 
ABV: 5.6% 
Nothing says Christmas quite like fresh baked cookies. ⁠This festive brew is full of the rich vanilla and creamy biscuit flavors of everyone's favorite holiday treat! 
Brewed by: West Shore Brewing 
ABV: 8.7% 
This Imperial Pastry Stout was brewed for Buffalo beer lovers who live for stout season. It's rich, chocolatey, and creamy lactose vanilla flavors are made for enjoying all winter long. 
Look for Local Cider and Beer in Buffalo 
You can find these winter beers and ciders wherever craft beer in Buffalo is sold including local bottle shops, beverage stores like Consumer's and grocery stores like Tops and Wegmans. Plus, you can find them at your favorite craft beer bars in Buffalo.