In celebration of Women's History Month, we're highlighting women in the Buffalo beer scene. This edition of our #DrinkLocal series features women-owned bars in Buffalo. 

Brandy Lombardo
Owner of BTR Brews & Deli O's
Deli O's became known for two things – the best subs in Angola and their craft beer cave. Unfortunately, a devastating fire destroyed Deli O's in March of 2021. 
Following the fire, the opportunity to move into the Village of Angola came about, which led to the start of a new business venture for Brandy Lombardo. 
"I saw potential in it," said Brandy. "I probably didn't sleep for two days before I made the decision. But it just made sense. I was gonna separate the two anyways, so why not just fully separate them?"
That's exactly what she did when she opened BTR Brews in December of 2021 on Main Street. If you're looking for a place to just chill, relax, and enjoy yourself while drinking good beer in Angola, this is it. 
BTR Brews is less retail-focused than other bottle shops in the area and more focused on what's on draft. Plus it has more of a restaurant feel than other bars in Buffalo. 
"We don't have an extensive menu, but we have a bigger menu than most when it comes to food. We do have an advantage because we're the only place here too," said Brandy. 
Since opening, Brandy has continued to make connections in Buffalo's craft beer community. 
"Everybody knows everybody in Buffalo," said Brandy. "No matter what, there's always a small degree of separation. Our beer community especially is so tight. We all know each other. There's more loyalty in selling our Buffalocal brands. There's more camaraderie."
You'll always find Buffalocal beer on tap and plenty of packaged options to bring home with you when you visit this craft beer destination in Angola.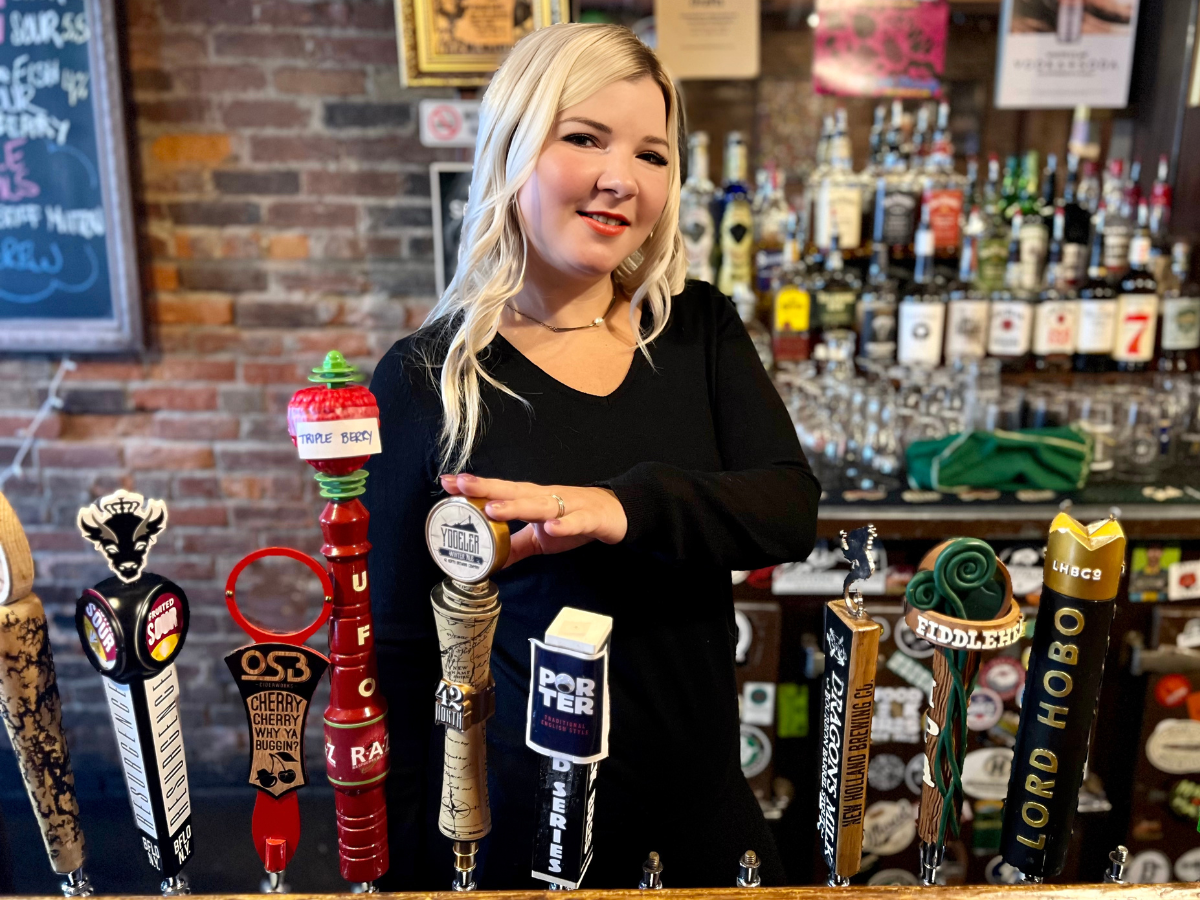 Stephanie Smith 
Owner of Buffalo Tap House
"The first question most guests ask us is … what's local? Of our 31 lines, my answer is most of them…" said Stephanie Smith. 
"I feel very strongly about supporting local breweries. The Buffalo brewery community is like a family. I am proud to call a lot of them my friends." 
Stephanie has years of bartending experience and a Master's Degree in Hospitality from Florida International University. After graduating, she moved back to Buffalo where she realized she missed bartending. 
Buffalo Tap House quickly became her favorite place to work and spend her time, so when the opportunity to buy the place came about, she went for it. 
"It had quickly become my favorite place to work and spend my time. I thought it would be the perfect idea to buy my favorite place," said Stephanie. 
When you visit this bar in Buffalo, you can expect a local pub-like feel complete with friendly staff and customers.
Buffalo Tap House has a rotation selection which regularly features beer in Buffalo from many Buffalocal brands. Flying Bison's Rusty Chain and Big Ditch's Hayburner are always available and releases from Southern Tier Brewing, 42 North Brewing, and BlackBird CiderWorks also make regular appearances on their tap list.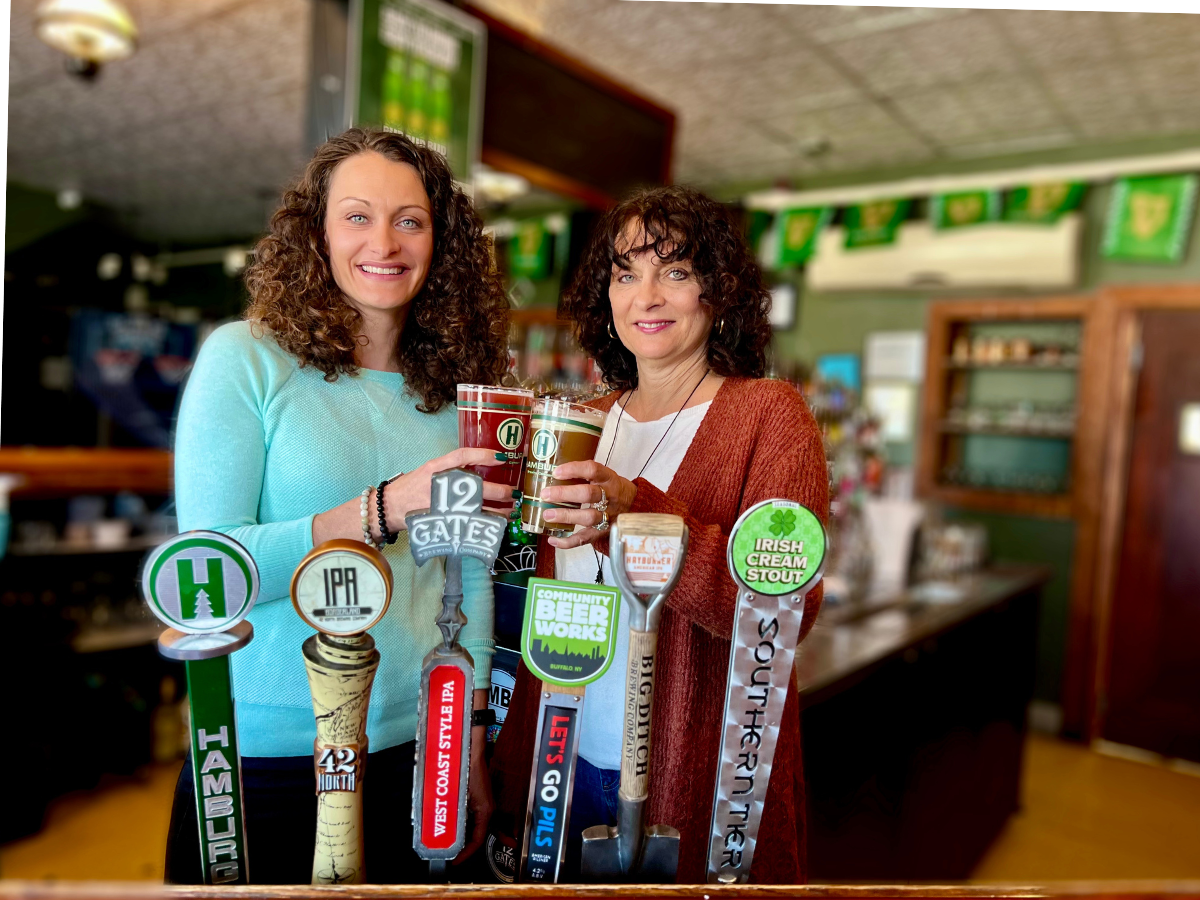 Alexandra & Yvette O'Brien
Co-Owners of O'Brien's West End Inn
The O'Briens have been in the hospitality industry since 2016 when they opened O'Brien's Pub in Eden. Yvette and her daughter, Alexandra, later opened O'Brien's West End Inn in the Village of Hamburg in 2022. 
"To be honest, we weren't entirely sure we wanted to open another full-scale restaurant. Fresh out of the pandemic, we just weren't sure what the hospitality industry would look like," said Alexandra O'Brien. 
The building's historic charm and untapped potential convinced them to take the leap in 2022. 
"We served our first fish fry on October 22, 2022 and haven't looked back," said Alexandra. 
Now they have a full-service bar and restaurant and they host private events and have lodging available upstairs. 
This place is full of history and genuine old-school charm. The bar is fully stocked with 18 local drafts and their menu has everything from standard Buffalo food favorites to house-smoked brisket. Plus, they have an entire gluten-free menu. 
"We wouldn't be here without the local support, so we like to pass it on. Whether it's drinking local beer, supporting our local farmers or featuring local animal rescues, we just support local," said Alexandra. 
When it comes to supporting craft beer in Buffalo, Alexandra and Yvette believe in going above and beyond. 
In fact, O'Brien's West End Inn has featured every single Buffalocal brand at some point since they opened 18 months ago. They typically have at least one beer from Southern Tier Brewing, Big Ditch Brewing, Ellicottville Brewing, and Hamburg Brewing on tap.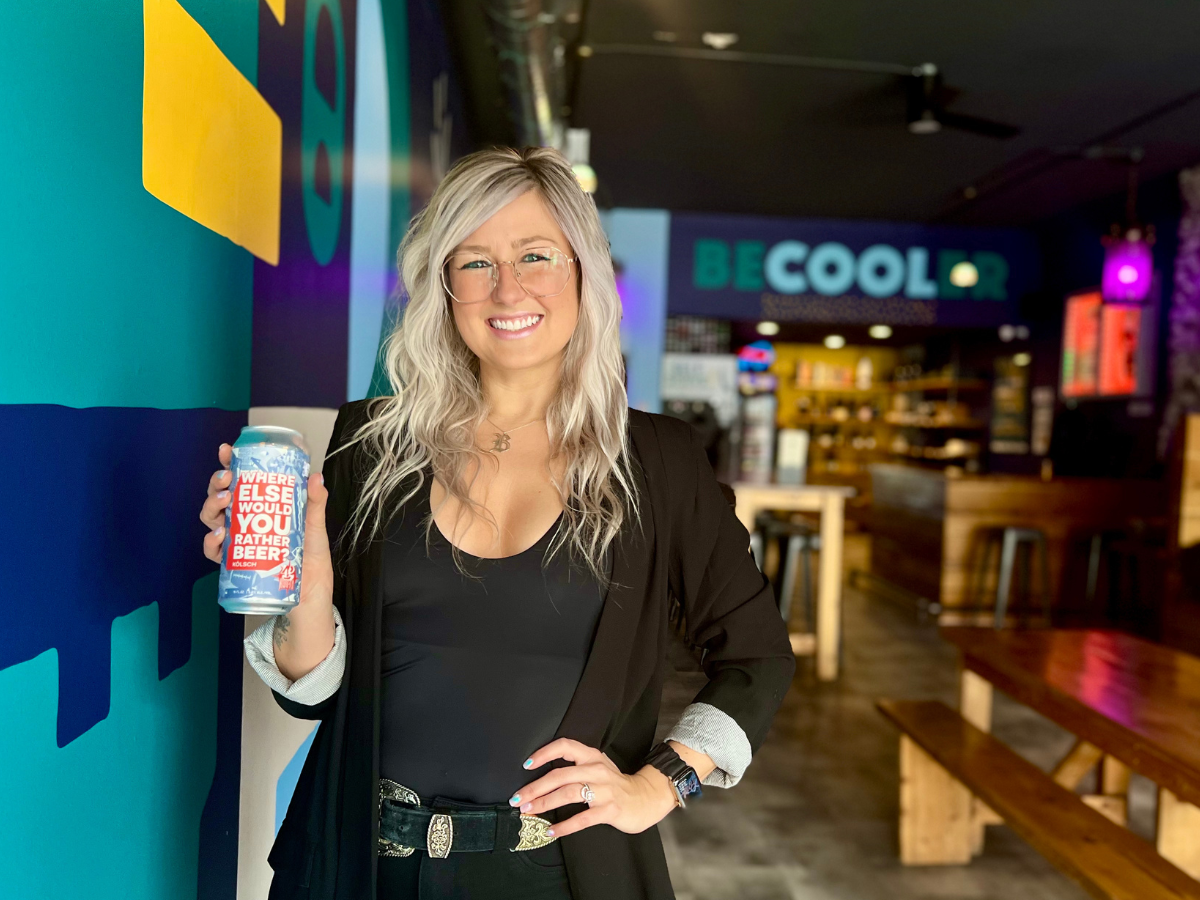 Briana "Breezy" Hunter
Owner of Breezy Burrito Bar & Co-Owner of The Beer Keep
Briana "Breezy" Hunter has deep industry roots and a passion for supporting her local community. She grew up in her family's Tex-Mex restaurant and she was serving at 16 and bartending by 18, so working in the industry has always been in her blood. 
She opened her own trendy taqueria, Breezy Burrito Bar, in 2016 and relocated  to Elmwood Avenue in 2019. When the space right next door opened up, Breezy joined friends to open The Beer Keep in 2021.
"Being such a local and walkable neighborhood, it was a void that we were able to fill for people who were looking for craft anything," said Breezy. 
Supporting local bars in Buffalo is and always will be very important to Breezy. 
"I love supporting my friends in the industry, and I would honestly put Buffalo's beer and beverage scene up against anyone else's. Buffalo just has such a unique flair that is just very Buffalo," said Breezy. 
From disco balls to colorful murals, both of these neighborhood spots have their own unique, authentic vibes. 
"If you're authentic, people will see that within you and that vibe. Your vibe will attract your tribe," said Breezy. 
You'll also notice the front-of-house staff at Breezy Burrito Bar and The Beer Keep are both female dominated. 
"For a while it was almost unheard of to have women brewers and women in this industry. Over the past five years, there's really been a huge resurgence in the industry, which makes me happy. We're making moves," said Breezy. 
Both Elmwood Avenue establishments are known for offering an ever-changing variety of craft beverages. You'll find local options on draft at Breezy Burrito Bar and The Beer Keep as well as cans and bottles in the beer shop.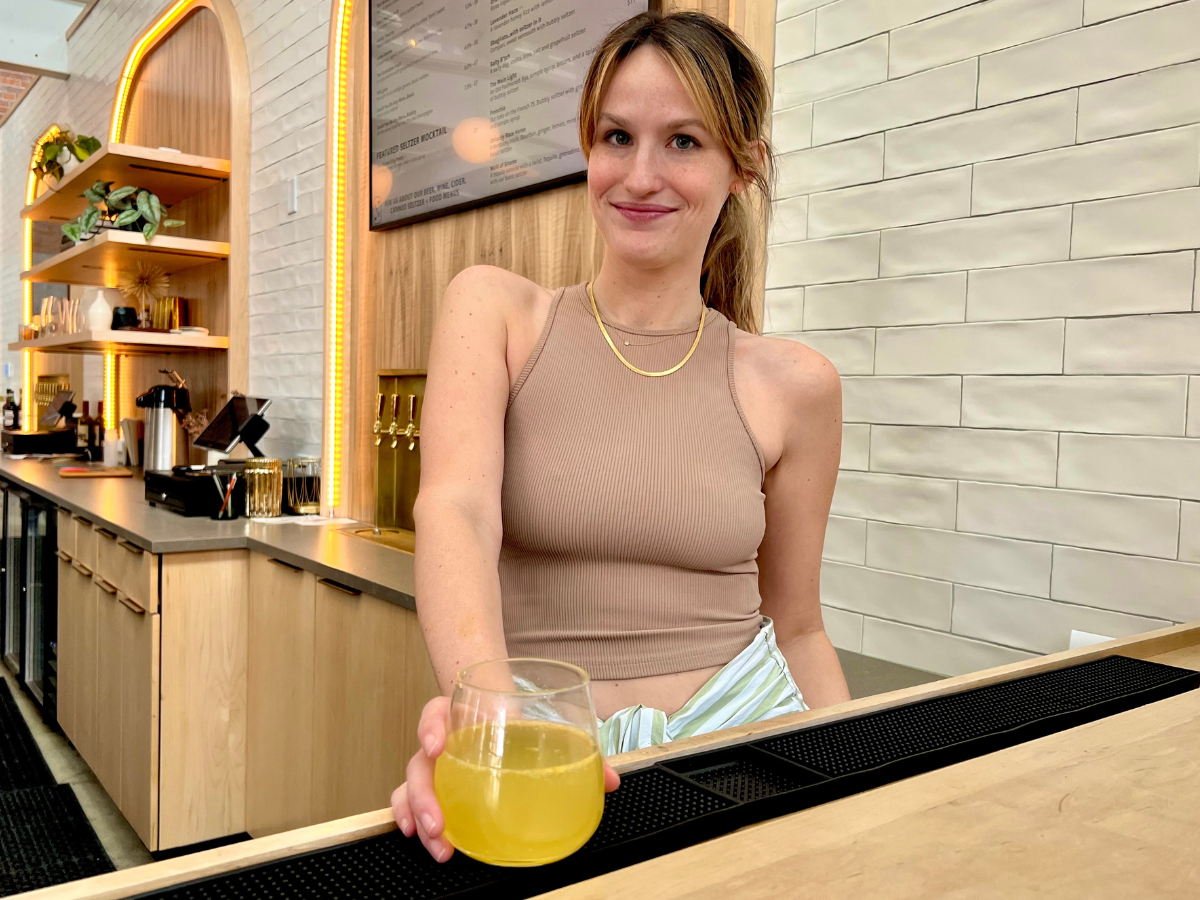 Kat Piechowicz
Co-Owner of Twin Petrels Seltzer Co.
As an avid seltzer drinker, Kat Piechowicz always felt like seltzer was missing something. She described it as the 'craft beer touch.'
"Marrying the ideas of a seltzery (brewery making seltzers) with this idea of creating something experiential for consumers is what really made Twin Petrels happen," said Kat. 
Buffalo's first seltzery, located on Niagara Street, has a minimalist, bright interior making it visually unique when compared to many craft beer destinations around Buffalo. 
"The ability to shift from that light, bright daytime feel to this colorful, exciting venue at night is a bit different as well," said Kat. "It's kind of a chameleon – which is what I wanted. 
I wanted someplace that you could go to in the morning for coffee and brunch but you could also go to for cocktails with the girls at night." 
Supporting the local community is important to Kat. 
"Drinking local is important to me because it's my neighbors creating it. It's my neighbors working there. When you drink local, you're supporting the girl you chatted with in the grocery line, the guy you bumped into at that one concert – they're your friends and family," said Kat.
You're supporting the Buffalo community as a whole and I think we have a pretty great city with some even better people in it. Why wouldn't you want to support that?" 
In addition to serving their own seltzers and cocktails, you can find local seltzers from 42 North Brewing and Resurgence Brewing in their coolers. Plus, they have a rotating selection of local beer and cider on tap at Twin Petrels. 
Drink Local
Drinking local makes a much greater impact than most people realize, so when you visit your favorite craft beer bar in Buffalo, make sure to ask them about their local options.
Our #DrinkLocal series is all about highlighting bars around Buffalo where you can find Buffalo craft beer, cider, and seltzer on tap or behind the bar. Follow us on Instagram and Facebook and share your favorite bars in Buffalo to drink local with us, so we can feature them next.