With the worst winter in decades behind us, we're very ready to welcome warmer weather this spring. 
The start of spring also marks the beginning of a new season for Buffalo craft beer and cider.
In the springtime, lighter, refreshing, and sessionable beers are in high demand.
Luckily, there's lots of locally-made options for you toadd to your spring bucket list.
Our Buffalo Beer and Cider Picks
:
1. Mango Rays
Brewed by Southern Tier Brewing
ABV: 5.0%
Sunnier days are on the horizon, so it's time to start stocking up on easy drinkers you can enjoy from sunrise to sunset.
This Wheat Ale is made for drinking on sunny days since it features vibrant notes of mango that balance beautifully with wheat and subtle malts.
2. Flow Rider
Brewed by Big Ditch Brewing
ABV: 4.3%
After a long bike ride, you've earned a refreshing reward.
This Blonde Ale is full of grapefruit, lime, and orange flavors, which makes for the perfect for post-ride refreshment!
Plus, this beer is brewed for a Ride for Roswell and a portion of all proceeds are donated to the Roswell Park Comprehensive Cancer Center.
3. Illumination Pilsner 
Brewed by 42 North Brewing
ABV: 5.4%
This authentically brewed Pilsner is everything you could hope for in a springtime sipper.
It's crisp and refreshing while full of flavor. It has a sweet malt character with a prevalent spicy and floral hop profile.
4. Polonia Pils
Brewed by Flying Bison Brewing 
ABV: 4.8%
This Polish-style Pilsner brewed with the Polonia tradition is the perfect pick for all of your Dyngus Day celebrations!⁠
It's crisp, refreshing, and easy to drink all day long. 
5. Field Blend
Brewed by Blackbird Cider Works
ABV: 5.2%
This Semi-Sweet Cider was brewed in celebration of Blackbird's 10th anniversary last spring.
It's made with a blend of their estate grown pears and apples for a refreshing taste that's uniquely theirs. 
6. Siren
Brewed by 12 Gates Brewing
ABV: 7.1%
This Hazy IPA drinks like a light beer but it has a thick, juicy mouthfeel.
It's packed with Azacca, Citra, Mosaic, and Simcoe hops to give it notes of pithy citrus zest and floral aroma.
7. Jasmine Let's Go Pils
Brewed by Community Beer Works
ABV: 4.2%
This seasonal variation of Let's Go Pils made its debut last spring.
Just like the original Pilsner, it features the finest Pilsner malt, flaked corn, and German hops. The addition of natural Jasmine adds a hint of floral sweetness to give it a fresh seasonal flavor.
8. Buy The Berries
Brewed by Steelbound Brewery 
ABV: 5.0%
This award-winning Blueberry Wheat is made with 100% all natural blueberries. It's crisp and clean with a bright flavor throughout. 
9. On The Tea
Brewed by Resurgence Brewing
ABV: 5.0%
If you like lemonade and iced tea, you'll love this Sour Ale. It may sound familiar, but this take on this legendary locally-made drink will certainly light up your taste buds in all the right ways.
10. Strawberry Crunch Bar
Brewed by Ellicottville Brewing 
ABV: 6.0%
If you ever chased down the ice cream truck for a strawberry crunch bar, this crushable Cream Ale will remind you of a frozen treat from your childhood.
It's sweet, fruity, and full of fresh strawberry flavor.
11. Lemon Cream Ale
Brewed by Hamburg Brewing 
ABV: 6.5%
This light, crushable Cream Ale is the best of both beer worlds.
It combines the flavor of an Ale with the smoothness of a Lager. Its bright lemon finish makes it an especially perfect pick for springtime sipping. 
12. Auto Flower
Brewed by Pressure Drop Brewing
ABV: 7.0%
This easy-drinking Hazy IPA was brewed in celebration of this brewery's favorite day in spring.
The blend of CTZ, Mosaic, and Cascade hops add dank aroma and lush flavors of grapefruit, pineapple, and bubble gum. You'll also notice underlying notes of resin, sap, and earth for balance.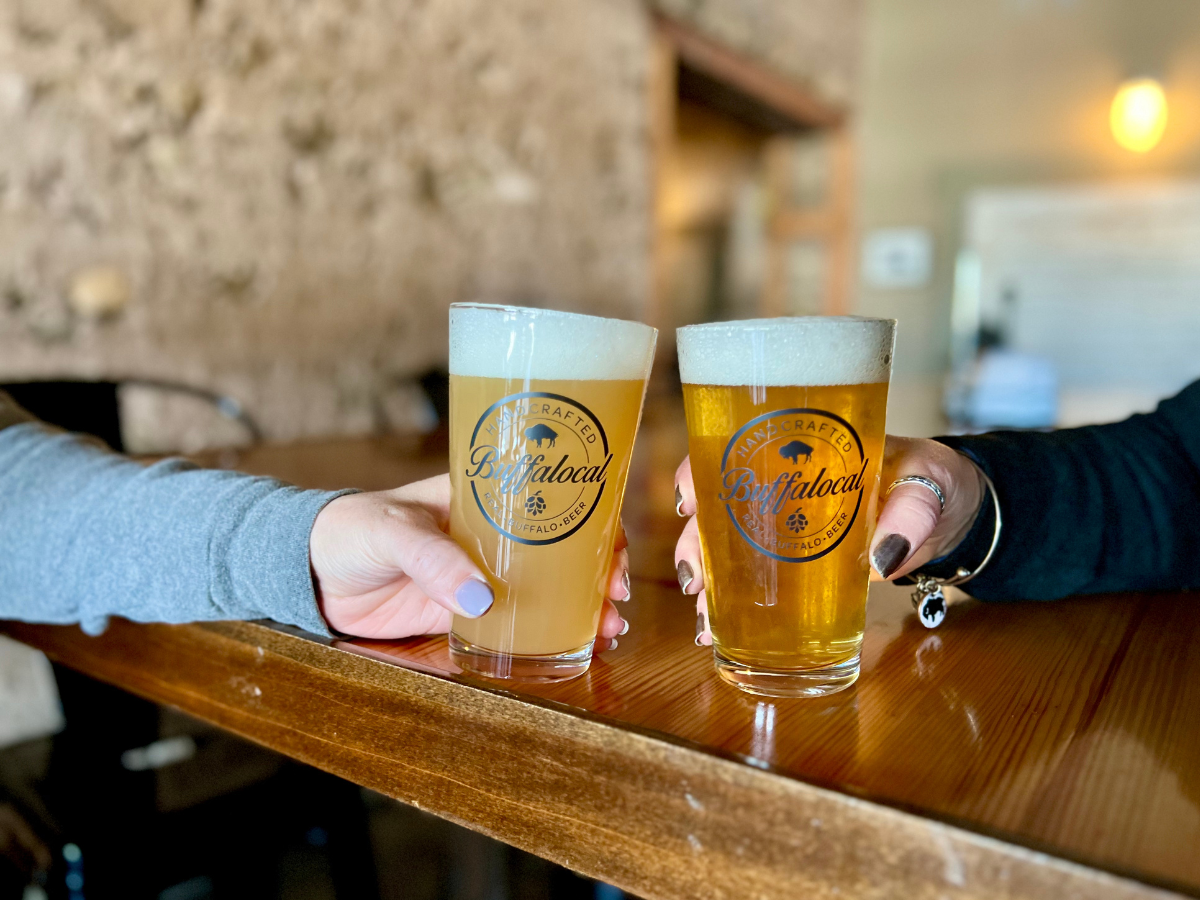 Look for Local Beer in Buffalo
You can find these springtime picks wherever craft beer in Buffalo is sold including grocery stores, beverage stores, and bottle shops.
When you visit your favorite craft beer bars in Buffalo, ask the bartenders what local beer options they have on tap.